FOOD ENTERS SYRIA'S HOMS AFTER CEASEFIRE: UN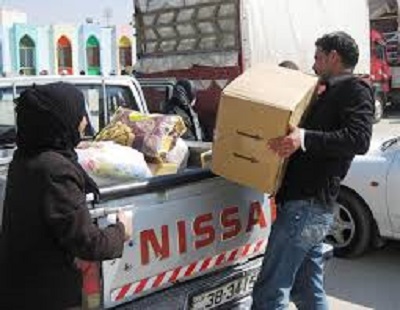 Beirut,  25 Rabi'ul Awwal 1436/16 January 2015 (MINA) – UN aid workers have started delivering food to tens of thousands of people trapped in a besieged district of Homs city in Syria following negotiations with warring parties, officials said on Friday.
In the absence of a nationwide peace deal, relief groups have tried to get localised agreements with fighters on all sides of the conflict to get convoys through to people in battle zones.
The United Nations did not give details of the Homs agreement but local opposition activists said there was a temporary ceasefire, Gulfnews quoted by Mi'raj Islamic News Agency (MINA) as reporting.
Food was sent to Al Wa'er on Thursday, Elisabeth Byrs, a spokeswoman for the UN's World Food Programme, told journalists in Geneva.
"Following extensive negotiations between parties to the conflict, a first convoy carrying 8,500 family food rations were delivered to the besieged area of Al Wa'er," — enough food for about 42,500 people for one month, Byrs said.
Two more convoys over the coming days will deliver food to 75,000 people, she added, 30 per cent of the estimated quarter of a million people the United Nations says are trapped in besieged areas across Syria.
A UN official in Geneva said that the WFP rations were aboard an 18-truck convoy that also delivered some medical supplies and non-food items from other UN agencies.
Al Wa'er has witnessed an intensification of shelling and heavy clashes which prevented all access for humanitarian deliveries, WFP said in a statement.
Al Wa'er has been cut off for nearly two years by government forces, opposition activists say. Syrian state media said last month that aid was delivered to Al Wa'er "almost every month."
The UN peace envoy to Syria, Staffan de Mistura, has said he wants to start focusing on brokering "freeze zones," or local truces, in the northern city of Aleppo rather than a peace plan for the whole of the divided country.
"This is why … we have put on the table the proposal of a freeze of heavy fighting in Aleppo, and eventually the return for a united, reconstructed Syrian city as it used to be because it is a symbolic microcosm of all of Syria," De Mistura told a news briefing in Geneva on Thursday, saying that Daesh rebel forces were "only 20 miles [32km] away from Aleppo".
More than 200,000 people have been killed in Syria's conflict, which began in March 2011 with popular protests against President Bashar Al Assad and spiralled into civil war after a crackdown by security forces.(T/P009/R03)
Mi'raj Islamic News Agency (MINA)