DoctorCare Dakwah Vessel dr. Josérizal Journalist, Health Service in Remote Islands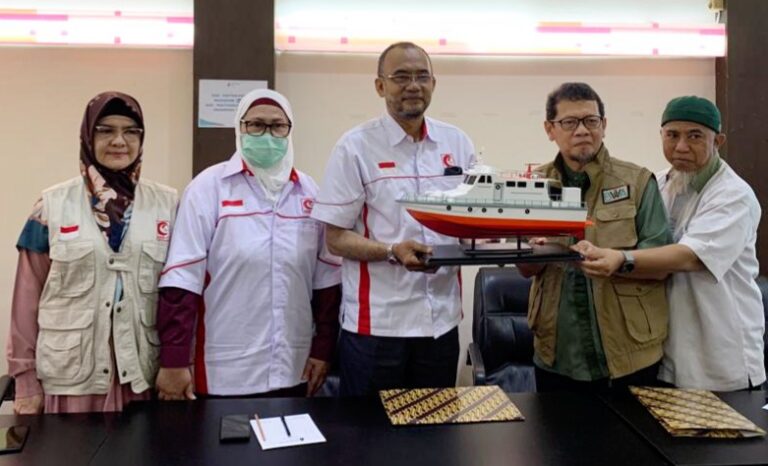 Jakarta, MINA – Indonesia's Medical Emergency Rescue Committee (MER-C) and Al-Qur'an Waqf Agency (BWA) establish cooperation through providing health service in remote islands using vassel, namely DoctorCare Dakwah Vassel (KDDC) dr. Josérizal Journalist
This collaboration was marked by the signing of agreement was carried out by BWA Chief Executive Officer, Heru Binawan and Chairman of the MER-C Presidium, dr. Sarbini Abdul Murad at the Sofyan Hotel, South Jakarta on Friday.
This event was also witnessed by the Board of Management from both institutions, representatives of the family of dr. Joserizal Journalist and a number of invited guests.
BWA Chief Executive Officer, Heru Binawan explained, DoctorCARE Dakwah Vessel is a special waqf program initiated by BWA.
In addition to preaching, KDDC which is the 4th BWA ship will be used for health services for people on remote islands in the archipelago.
"This program is expected to be one of the solutions to the lack of health services for our compatriots who are in remote areas of our beloved homeland," said Heru.
BWA is collaborating with MER-C, a medical social institution that has been active in the humanitarian field for more than 23 years to become a partner in this program.
In fact, the name DokterCARE Dakwah Vessel is named after one of the founding figures of MER-C who is also a medical and humanitarian fighter "dr. Joserizal Jurnalis", which on this day marks exactly three years since the deceased left to face the Creator.
"His body may be gone, but hopefully his spirit and struggle can be continued by the community," said the Chairman of the MER-C Presidium, dr. Sarbini Abdul Murad.
Da'wah and Health Vessels
The patrol type vassel follows the KPLP standard, has a length of 28 m and a width of 5.4 m, 2 MAN type engines, with a maximum speed of up to 30 knots.
Meanwhile, the vassel's capacity can accommodate up to 20 people, with details of 12 crew members and 8 passengers.
The vassel is equipped with an action room and a number of medical devices that allow for minor surgical operations and deliveries.
Sarbini conveyed that the target areas for the cooperation program were remote islands in the Southwest Papua region and its surroundings.
With KDDC dr. Joserizal Jurnalis, the MER-C Team and BWA will explore the villages in this area which can only be accessed by sea to provide medical assistance to those in need.
"Patients who cannot be treated, will be referred to KDDC dr. Joserizal Jurnalis to get further treatment," he said.
Waqf from the community is still very much needed to be able to complete the renovation of the ship and finance the operation of the ship so that it can start its missionary and humanitarian journey.
"Our hope is that the program can start in mid-2023, to be precise July 1, 2023," concluded Sarbini. (T/RE1)
Mi'raj News Agency (MINA)