Constitutional Court Judges Read Legal Considerations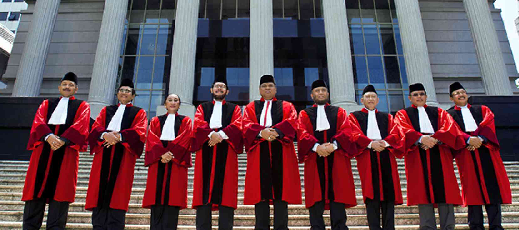 Jakarta, MINA – Constitutional Court Judges are reading the final decision in the trial of the 2019 Presidential Election dispute held on Thursday (27/6) at the Constitutional Court, a day earlier than scheduled.
"We will always provide legal considerations and account for the results of this decision," said Chief Justice of the Constitutional Court, Usman Anwar.
"Our decision will refer to the Qur'anic proposition. This is given for justice, "he said.
The Chairperson and members of the Constitutional Court Judges read out the complaints from the faction Prabowo/Sandi and then provided legal considerations.
In this case the pair Prabowo Subianto – Sandiago Uno as the applicant while the General Election Commission (KPU) as the defendant, as well as the National Campaign Team Joko Widodo – Ma'aruf Amin as the related party and the Election Supervisory Board as one of the election organizers.
Calculation of the election results announced by the KPU was won by the Jokowi-Amin pair with 55.5% of the vote while Prabowo-Sandy only won 44.5 votes. (P03/P2/P1)
Mi'raj News Agency (MINA)