BEACHES OF THE GAZA SEA ARE CONTAMINATED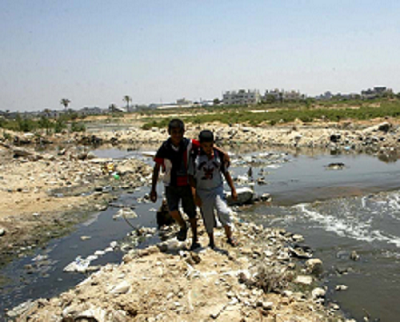 Gaza, 29 Sya'ban 1435/27 Juni 2014 (MINA)- The Palestinian Environment Quality Authority (PEQA) announced in a statement on Wednesday (25/6), half of Gaza's beaches are dangerously contaminated and called for acquiring the necessary equipment to stop the flooding of sewage into the sea before it is too late.
About three weeks earlier, the PEQA had issued a statement said that,"More than half of the beaches were becoming dangerously contaminated and warned that if the needed equipment to keep the sewage treatment plants operating was not made available, all the beaches would become unfit for swimming."
Because of the energy crisis due to Israel's on-going siege of the Gaza Strip, the sewage treatment plants end up pumping wastewater directly into the sea. Middle East Monitor (MEMO) quoted by Mi'raj Islamic News Agency (MINA) as reporting.
The PEQA said this is the most dangerous degree of contamination the Gaza Sea has witnessed in years. "This puts the health of swimmers and the fishing industry at stake," the statement said.
The PEQA reiterated that if the contamination crisis continues to be unaddressed, it would announce the beaches of the Gaza Sea as disaster-stricken areas and would issue orders to ban swimming completely. "It will be a heavily contaminated area," the statement added.
Calling for Palestinian Authority President Mahmoud Abbas and Palestinian Prime Minister Rami Hamadallah to act urgently, the PEQA warned that time is passing quickly and that action "must" be taken before it is too late.
In addition, the PEQA called for the international community to take measures towards Israel pushing it to lift the siege that has been imposed on Gaza since mid-2006. It also called for helping Gaza's residents get their basic health, environmental and humanitarian needs freely.
PEQA also called for Egypt to open the Rafah Crossing to facilitate the entrance of the basic needs of Gaza's residents before a massive humanitarian disaster takes place.(T/Nidiya/E01)
Mi'raj Islamic News Agency (MINA)