AWG Distributes 250 Iftar Packages at Al-Aqsa Mosque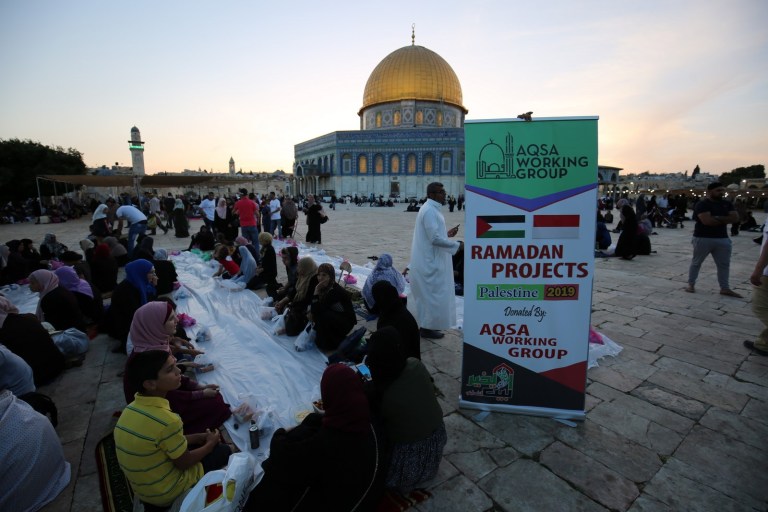 Jakarta, MINA – The humanitarian organization of Al-Aqsa Working Group (AWG) distributed 250 iftar packages for the worshipers at Al-Aqsa Mosque in Palestine.
The humanitarian mission program in collaboration with PWH (Palestine Welfare House) for the second time was held on 27 Ramadhan 1440H, Saturday, June 1.
"Alhamdulillah, with Allah's help, AWG can carry out the mandate of shadaqoh or donations from donors in the form of sharing Muslim Fast-breaking Ransum in Aqsa mosque," said AWG General Chairman Agus Sudarmaji, as quoted by MINA, Monday.
He expressed gratitude to all donors who have provided financial assistance and contributions, so that this 2019 Ramadhan Project can be held well.
"Hopefully, it will be good deed for all those who have done this kindness," he said.
Main Trustee of AWG Imaamul Muslimin Yakhshallah Mansur revealed that "Alhamdulillahirabbil 'Alamin, finally we can send an assistance to Al-Aqsa Mosque. Hopefully, this is included in the Hadith narrated by Imam Ahmad, where if you cannot pray there send olive oil to light the lamp".
"… Then send a gift in the form of light oil for him, because actually the reward that gives him a gift is the same as prayer in it." (Narrated by Ahmad)
The 250 packages given at the end of Ramadan, consist of dates, bread, chicken, potatoes and several other foods and juices.
The Iftar package distribution program by AWG in collaboration with humanitarian institutions in Palestine is a routine program in every year. It is AWG's commitment to become a place for Muslim unity and free Al-Aqsa Mosque.
AWG is an institution that focuses on raising aid to help Palestinian cause and effort to liberate Al-Aqsa Mosque,including help Syrian refugees (TL/Sj/R04)
Mi'raj News Agency (MINA)