AL-AQSA PREACHER CONDEMNS ISRAELI DEPORTATION POLICY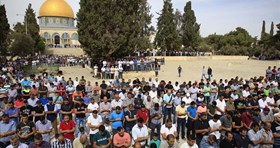 Jerusalem, 9 Rabi'ul Awwal 1437/20 December 2015 (MINA) – Preacher of Al-Aqsa Mosque Sheikh Ikrema Sabri denounced during Friday,(12/18) sermon Israel's deportation policy against Jerusalemites.
"Israel is the only state in the world that prevents people's access to their worship places," Sheikh Sabri said.
We strongly condemn Israel's deportation policy that is carried out increasingly against Jerusalemite female worshipers.
Israel's deportation policy is an unfair policy that prevents people's right of worship and restricts their freedom of movement and expression, he continued.
He pointed out that Al-Aqsa Mosque is in a real danger as it is still targeted by Israeli Judaization schemes, The Palestinian Information Center (OPIC) quoted by Mi'raj Islamic News Agency (MINA) as reporting.
According to him, the ongoing tension would only stop when Israeli settlers' break-ins into the holy shrine were stopped.
"Al-Aqsa will be in danger as long as Al-Magaribeh Gate is controlled by Israeli authorities," Sheikh Sabri stressed.
Sheikh Sabri was summoned two days ago for investigation by Israeli authorities for allegedly inciting violence. (T/Imt/R03)
Mi'raj Islamic News Agency (MINA)