ACT Distributes Food Aid for Rohingya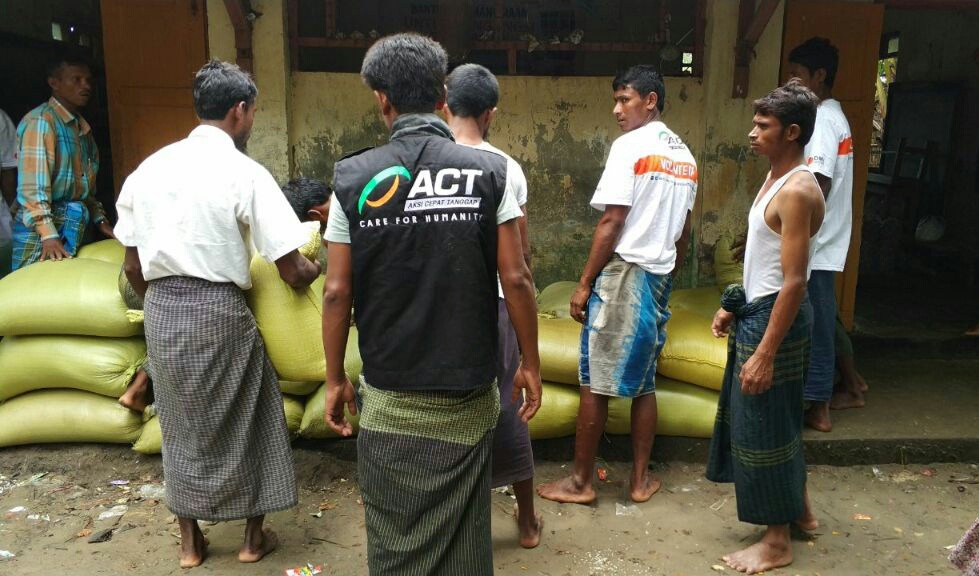 ACT Distributes Food Aid for Rohingya Survivors (photo: special)
Rakhine, MINA – Food Package Assistance was delivered by Aksi Cepat Tanggap (ACT) to a number of survivors of the Rohingya conflict. The assistance was distributed to a number of villages in Buthidaung, Rakhine, Myanmar on Saturday-Sunday, October 19-20.
In partnership with Baitul Mal Umat Islam Bank Negara Indonesia (Bamuis BNI) and Kitabisa, as many as 11 tons of food was received by 200 families.
The assistance consisting of staple foods, such as rice, cooking oil, and a number of snacks were distributed to the people of Mawstawbiz Village and refugees who were staying at a school in Nyaung Chaung, Buthidaung.
"In Buthidaung, the internally displaced people live in schools with only tarpaulins," said ACT's Global Humanity Response (GHR) team, Sucita Ramadinda in a statement on Friday, October 25.
Sucita said the assistance was a manifestation of generous concern in reducing humanitarian conflicts experienced by Rohingya.
"We endeavor to continue to bring food aid to Rohingya refugees internally in Myanmar, especially in Arakan," he said. "They are families who were forced to flee in Buthidaung because of military conflict."
Aside from aiming for fighting, Arakan's forces also often fired at the houses of Rohingya residents and looted gold and residents' money. The United Nations Office for Coordination of Humanitarian Affairs reports that Rohingyas face systematic discrimination, have no citizenship, and are targets of violence in Rakhine, Myanmar.
The persecution made the Rohingya flock to Bangladesh. Today, the number of Rohingya refugees reaches almost one million. More than 200 thousand households or the equivalent of more than 901 thousand Rohingya registered as refugees.
The data was updated by the United Nations and Bangladesh government in mid-June 2019. The number is increased when compared to the number of Rohingya who had an exodus from Rakhine to Bangladesh two years ago.
Meanwhile, in August 2017, more than 700 thousand majority Rohingya Muslims exodus from Rakhine to Cox's Bazar. That number added about 200 thousand Rohingya who were already there. (T/Sj/P2)
Mi'raj News Agency (MINA)