ISRAELI STRIKES KILLED 37 PEOPLE ACROSS GAZA SUNDAY MORNING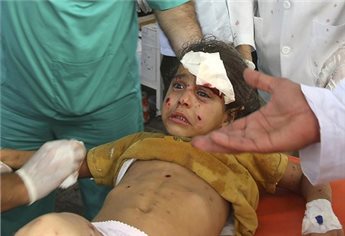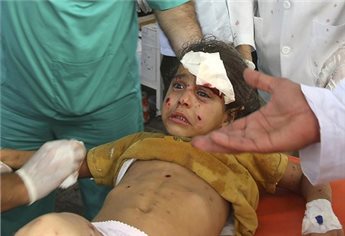 Gaza, 7 Shawal 1435/3 August 2014 (MINA) – Israeli airstrikes and shelling killed 37 people across the Gaza Strip on Sunday morning, as the 27-day assault on Gaza showed no signs of ceasing despite Israeli moves to redeploy outside of urban areas the day before.
" Number of victims estimated increasing following unbalanced battle on 27th day," Mi'raj Islamic News Agency (MINA) correspondent in Gaza reported.
Activists of media citing from Ministry of Health in Gaza reported 37 people were killed since early morning including 10 members of one family in Rafah. Number of dead victims became 1,739 and almost 10,000 others were injured from total population of Gaza about 1,8 million people.
The ten members of one family killed in the attack came from family of al-Ghoul in Tal al-Sultan, Rafah.
The Ministry of Health in Gaza said that the 37 dead since midnight — which includes 10 members of a single family in Rafah — brought the total death toll to 1,739, with nearly 10,000 injured and a quarter of the total population of 1.8 million displaced.
The 10 family members were killed during an Israeli air strike on the al-Ghoul family home in the Tel al-Sultan neighborhood in Rafah, Ma'an News Agency quoted by Mi'raj Islamic News Agency (MINA) as reporting, Sunday.
Spokesman for the Ministry of Health Ashraf al-Qidra identified nine of the victims as Muhammad Ismail al-Ghoul, Wael Ismail al-Ghoul, Ismail Muhammad al-Ghoul, Ismail Wael al-Ghoul, Khadra Khalid al-Ghoul, Asmaa Ismail al-Ghoul, Malak Wael al-Ghoul, Mustafa Wael al-Ghoul, Hanadi Ismail al-Ghoul.
Despite the ongoing Israeli onslaught, Palestinian leaders continued to place their hopes in ceasefire talks in Cairo.
Representatives of the PLO, Hamas, and Islamic Jihad arrived in Cairo on Saturday from offices in the West Bank, Doha, Damascus, and Beirut, with the hope that Hamas officials from Gaza would also be arriving soon.
A delegation from the US state department including senior adviser on Middle East issues Frank Lowenstein also arrived in Cairo Saturday.
Onlookers expected representatives of the UN and the international Quartet to join the Cairo talks,
Israel, however, has maintained that it will not attend the talks, a move solidified after the state redeployed its forces on Saturday afternoon from across Gaza's urban areas to areas a few hundred meter near the border inside Gaza.
Israeli Prime Minister Benjamin Netanyahu said in a speech Saturday that despite the redeployment, the operation would continue.
The move suggested that Israeli forces would re-occupy large areas of the Gaza Strip for the foreseeable future. Even before the latest incursion, Israel maintained a buffer zone of more than 500 meters that encompassed nearly 20 percent of Gaza's total land area.
Israel public opinion is strongly in favor of continuing the assault, despite the deaths of 64 Israeli soldiers so far.
Intense airstrikes overnight
The Ministry of Health said that airstrikes and shelling across the Gaza Strip had been intense overnight.
An Israeli raid on home of Abu Jazar family in Rafah killed 23-year-old Amani Abu Jazar and her toddlers Maria and Faris Abu Jazar. Issa al-Shaer and Saed Mahmoud al-Lahwani were killed in the same raid.
Muhammad al-Hour was killed and four others were injured shortly before dawn prayer in Rafah.
The body of Ibrahim Qishta was recovered from the rubble of a house which Israeli forces bombarded Saturday in eastern Rafah.
In the northern Gaza Strip, Israeli warplanes struck the home of the Abu al-Qumsan family in Jabaliya Sunday morning, killing Hatim Abdul-Rahman Wahdan, 50, Sanyura Wahdan, 27 and Jamila Wahdan, 24. Ten others were injured.
Four Palestinians were killed and 12 others were injured Sunday morning in Deir al-Balah in the central Gaza Strip.
Witnesses said that an airstrike hit the home of the Khattab family, killing Atwah Suleiman Khattab, 64, Muhammad Atwah Khattab, Rimas Salim al-Attar, and another woman who hasn't been identified yet.
Another airstrike on Deir al-Balah killed a man and injured several others.
In the southern Gaza Strip city of Khan Younis, Israeli attacks killed two Palestinian men and injured three others when a missile hit home of Abu Shalouf family in the western quarter of the city.
At least fifteen people were injured by Israeli artillery shelling at Shuhada al-Zaytoun mosque in the Zaytoun neighborhood of Gaza City.(T/K01/Syt/P03/E01)
Mi'raj Islamic News Agency (MINA)