28 INJURED AND 8 DETAINED IN FIERCE CLASHES AT AL-AQSA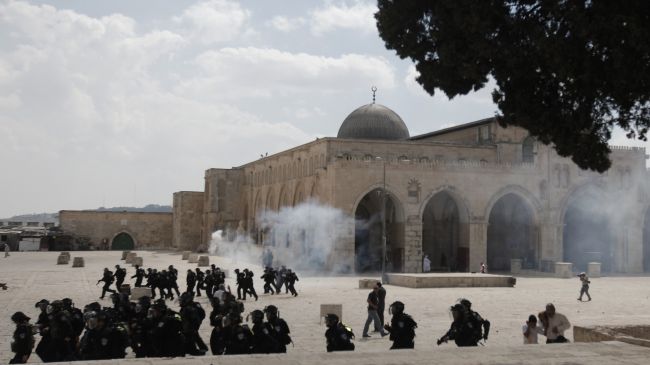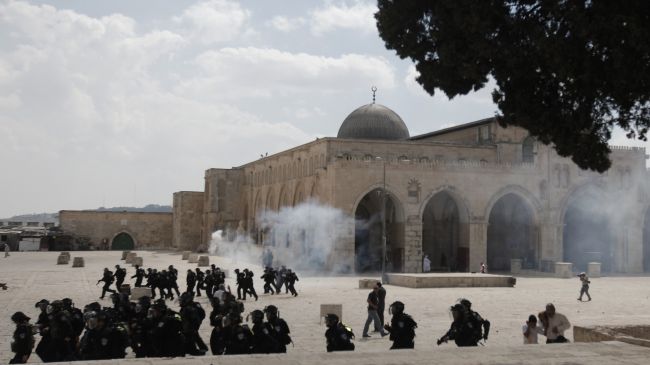 Al Quds (Jerusalem), 15 Sya'ban 1435/14 June 2014 (MINA) – Twenty-eight Palestinians were injured and eight detained during clashes that broke out after Israeli forces stormed the Al-Aqsa mosque compound in Jerusalem's Old City after Friday prayers.
Israeli forces stormed the holy compound, which is the third-holiest site in Islam, after worshipers began marching in support of more than 125 Palestinian administrative detainees who have been on hunger strike for more than50 days.
The march left through the Moroccan and Chain Gates, at which point groups of special forces began firing stun grenades and rubber-coated steel bullets toward worshipers, Maan News Agency quoted by Mi'raj Islamic News Agency (MINA) as reporting.
Special forces also began beating worshipers with batons, including ambulance crews and journalists on the scene, while another Israeli unit besieged the worshipers in the Al-Aqsa Qibli Mosque and closed the doors and launched stun grenades and pepper gas into it.
A fourth unit besieged worshipers inside the Marwani Mosque, and fired stun grenades and gas at worshipers, who were mostly elderly, according to the Al-Aqsa mosque director.
After the end of clashes, police set up a checkpoint at the doors of the Al-Aqsa mosque and began checking identity cards. They detained eight Palestinians during the checks, according to police.
A doctor at Al-Aqsa medical clinic Ziad Sorour said that 28 Palestinians were injured by shrapnel from the stun grenades. The wounds were primarily in the back and the legs and he described them as "moderate" injuries.
Sorour said that the majority of the injured were treated in two of the Al-Aqsa compound's clinics, at the Cotton Sellers' Gate and at the Al-Aqsa Qibli Mosque, and none were taken to hospitals.
Al-Aqsa mosque director Sheikh Omar al-Kiswani told Ma'an that the clashes lasted about 15 minutes, and that four elderly men were injured in the Qibli Mosque. Dozens also suffered from excessive tear gas inhalation when they were trapped in the Al-Aqsa Qibli and Marwani mosques.
The President of the Supreme Islamic Council and preacher at the Al-Aqsa mosque Sheikh Akrama Sabri told Ma'an that "the military incursion of Al-Aqsa is unjustifiable and aims to violate the sanctity of the mosque and spread terror in the hearts of worshipers," condemning the continuous attacks on Al-Aqsa that he said violate Palestinian freedom of worship.
A 2012 US State Department report decried Israeli restrictions on Palestinian freedom to worship in Jerusalem, saying: "Strict closures and curfews imposed by the Israeli government negatively affected residents' ability to practice their religion at holy sites, including the Church of the Holy Sepulcher and Al-Aqsa Mosque in Jerusalem, as well as the Church of the Nativity in Bethlehem."
Al-Aqsa is located in East Jerusalem, a part of the internationally recognized Palestinian territories that have been occupied by the Israeli military since 1967. (T/P015/E01)
Mi'raj Islamic News Agency (MINA)