200 JEWISH IMMIGRANTS ARRIVED IN ISRAEL FROM FRANCE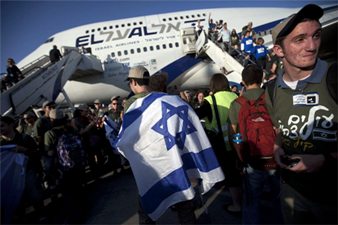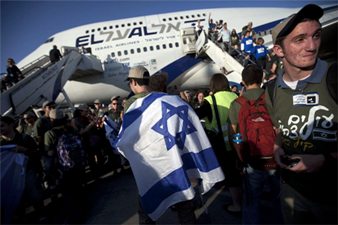 Tel Aviv, 16 Shawwal 1436/1 August 2015 (MINA) –  More than 200 French Jewish immigrants arrived in Israel yesterday aboard a special flight arranged by the Ministry of Aliyah and Immigrant Absorption, according to the Jewish Agency for Israel.
In a press statement obtained by the Anadolu Agency, the agency, which encourages Jews to immigrate to Israel, noted that half of the migrants were children.
More than 20,000 French Jews, mostly families, immigrated to Israel during the past five years. Some 7,500 of them arrived in 2014 and 4,260 in 2015, he explained, Middle East Monitor (Memo) quoted by Mi'raj Islamic News Agency (MINA).
The agency said that the coastal city of Netanya, north of Israel, is the first destination for French Jewish migrants, followed by the cities of Tel Aviv, Jerusalem, Ashdod and Ra'anana.
The statementquoted the Minister of Aliyah and Immigrant Absorption Ze'ev Elkin as saying: "This plane with 200 immigrants from France is just one of many arriving in Israel this summer."
"This is the second year in a row that we are seeing a significant increase in Aliyah from France, and so the ministry and the entire government are working to further increase the rate of Aliyah and dedicate more resources to improving immigrant absorption. This year we are preparing to receive between 30,000 and 35,000 immigrants from around the world, the most in a decade," he added.
The Chief Executive of the Jewish Agency for Israel, Natan Sharansky, said in a statement that the agency has expanded its operations in Europe significantly during the past two years in response to the increased interest of European Jews in immigration.
"We are seeing an unprecedented wave of Aliyah from European countries," he added.
On 16 February, the Israeli government announced that it has approved a special plan to encourage Jews from France, Belgium and Ukraine to immigrate to Israel in 2015. (T/P002/R03)
Mi'raj Islamic News Agency (MINA)