11 EDUCATIONAL FACILITIES RENOVATED IN GAZA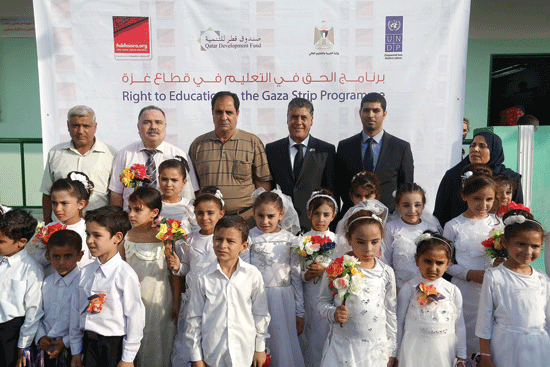 Doha, 7  Muharram 1436/20 October 2015 (MINA) –   The Qatar Development Fund (QDF), Al Fakhoora and UNDP's Programme of Assistance to the Palestinian people have announced completion of rehabilitation works of 11 educational facilities in Gaza Strip.
The project helped completion of the first rehabilitation package which includes three private schools, five training centres and three universities.
It is estimated that about 10,000 people, including 2,357 female students, will benefit from access to renovated facilities. Reconstruction included rehabilitation of classrooms, replacement of damaged structures and sheds, tiling, painting and installation of solar cells.
Al Fakhoora is a programme of Education Above All Foundation (EAA) to provide young Palestinians with education opportunities in Gaza, The Peninsula quoted by Mi'raj Islamic News Agency (MINA) as reporting.
Working in partnership with local and international NGOs in Gaza, Al Fakhoora focuses on scholarship and empowerment programmes, reconstruction and rehabilitation of education facilities and providing psychosocial support.
The activities are part of a $21m Right to Education Programme to reconstruct and rehabilitate educational facilities damaged and destroyed during the 2014 Israeli attacks on Gaza, with funds from Qatar Development Fund to Education Above All's Al Fakhoora programme.
Through the programme, over 600,000 Palestinian children and youth will regain access to quality education in an inclusive and child-friendly learning environment.
The Right to Education Programme will provide more than 200 newly-built classrooms and support the rebuilding of four schools completely destroyed during the 51-day aggression on Gaza. Rehabilitation and reconstruction works for 19 damaged primary and secondary schools, 10 universities and five training centres are also under way.
According to statistics, more than 200 additional schools are needed, and another 190 by 2020 to meet the annual increase in the number of students. (T/Imt/R04)
Mi'raj Islamic News Agency (MINA)