RIGHT-WING JEWS TOUR AL-AQSA TO MARK JERUSALEM DAY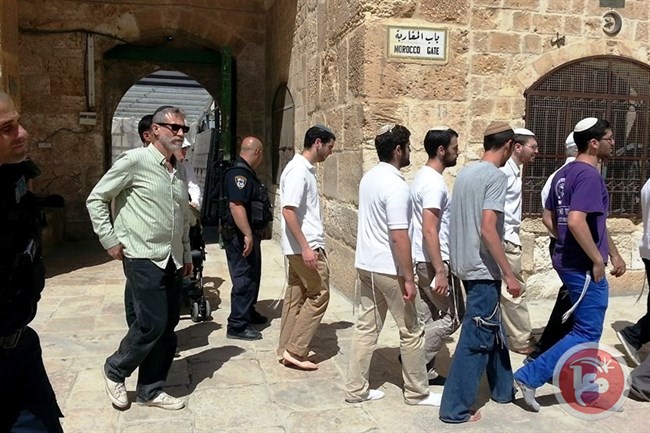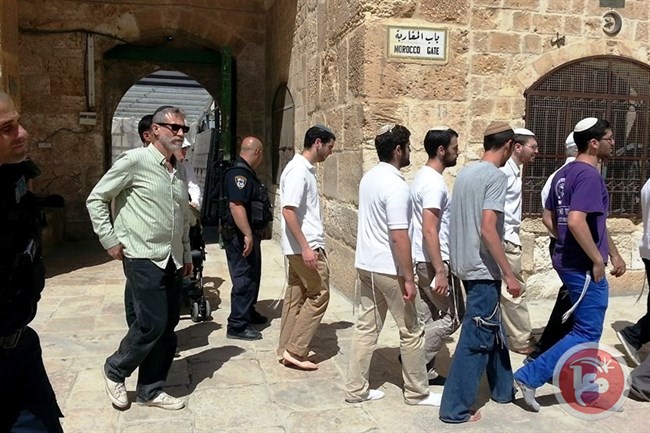 Al-Quds, 29 Rajab 1436/ 18 Mei 2015 (MINA) – Dozens of right-wing Jews entered the Al-Aqsa mosque compound in Jerusalem's Old City on Sunday to mark the anniversary of Israel's seizure of East Jerusalem's in 1967, known by Israelis as "Jerusalem Day."
Director of Al-Aqsa mosque Sheikh Omar al-Kiswani told Ma'an that more than 160 "extremists stormed the squares of Al-Aqsa in groups.
He added that half of them toured the entire compound, while the other half walked through the compound's Moroccan Gate and left through the Chain Gate, Ma'an News Agency quoted  by Mi'raj Islamic News Agency (MINA) as reporting.
"Two extremists tore their clothes immediately after they entered through the Moroccan gate, but police officers moved them away," he said, referring to a Jewish practice that symbolizes mourning.
Sheikh al-Kiswani added that tensions rose near the Chain Gate after groups of right-wing Jews started to form circles dancing and chanting religious songs with the intention of provoking Muslim worshipers.
Meanwhile, Israeli police officers were heavily deployed around all gates leading to the mosque compound.
Witnesses said Israeli police officers arrested a young Palestinian man identified as Muhammad Ibrahim.
The third holiest site in Islam, the Al-Aqsa Mosque compound is also venerated as Judaism's most holy place as it sits where Jews believe the First and Second Temples once stood.
Since 1967 Israel has maintained an agreement with the Islamic trust that controls the Al-Aqsa compound not to allow non-Muslim prayer in the area, while Jewish prayer is allowed at the neighboring Western Wall.
However, Israeli forces regularly escort Jewish visitors to the mosque compound, leading to anger among Muslim worshipers.
Thousands of right-wing Jews are expected to rally across the Old City on Sunday waving Israeli flags and chanting.
Jerusalem Day, marked this year on May 17, is a largely right-wing Israeli national holiday that celebrates the "liberation" and "reunification" of the city following what is internationally recognized as the illegal occupation of East Jerusalem in 1967.
For Palestinians, the day is a painful reminder of their historic loss, displacement, and ongoing marginalization.
The Association for Civil Rights in Israel issued a report on Thursday to coincide with Jerusalem Day that documented neglect, urban blight and underdevelopment in occupied East Jerusalem.
The report demonstrated decades of chronic under-funding, discriminatory planning rights, and unequal access to services for Palestinians, with youths subject to increased police brutality and arrests since last summer's demonstrations in the city.
More than 75 percent of Palestinians in the city are living below the poverty line compared to the national Israeli average of 21.8 percent. (T/P010/R03)
Mi'raj Islamic News Agency (MINA)