Religious Leaders in Indonesia-South Korea Discuss Trustworthy Scripture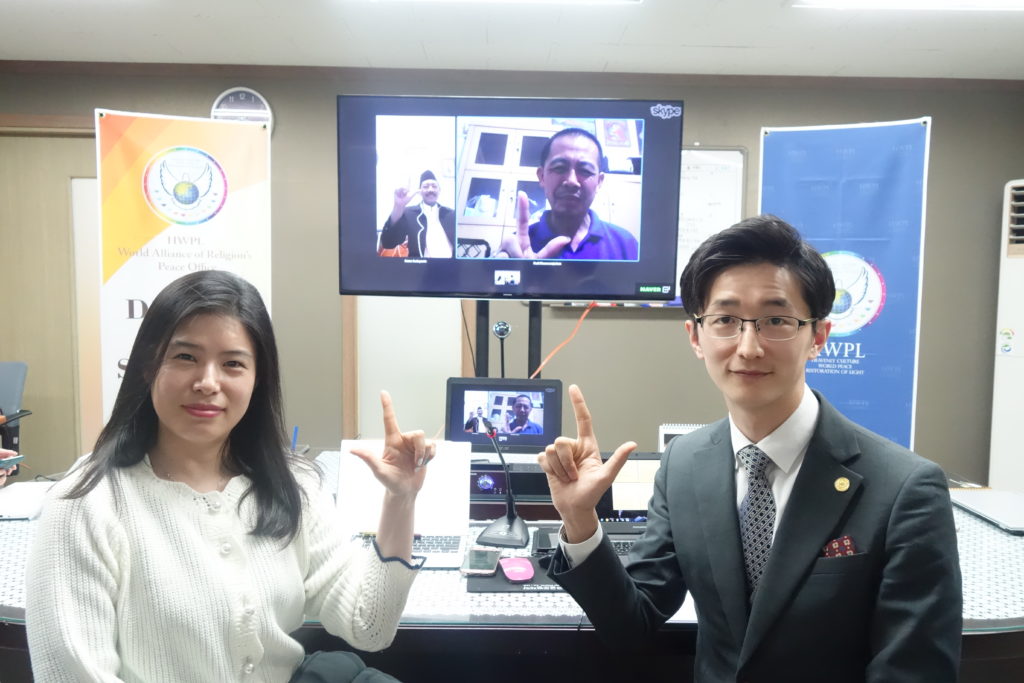 Jakarta, 2 Jumadil Akhir 1438/1 March 2017 (MINA) – Religious leaders in Makassar discussed on February 26 peacebuilding measures on the 13th Makassar World Alliance of Religions' Peace Office (WARP Office Meeting) at Alauddin Makassar National University.
On the same day, the 16th Medan WARP Office Meeting took place at  the religious leaders' offices.
Breeana Jeong, Press & Media Liaison Department​ of Heavenly Culture, World Peace, Restoration of Light (HWPL) said, this event serves as an interaction for mutual understanding and cooperation since representatives in the two different countries were present online – Indonesia and South Korea.
The title of the WARP Office Meeting is "the trustworthy scripture." When religions and religious scriptures are misused for conflicts, religion must prevent and mediate conflicts. If there is the trustworthy scripture, it would be the standards for solving problems.
"That's why the title is "the trustworthy scripture." Every month, Indonesian religious leaders gather to discuss the principles of trustworthy scripture," said Jeong in a statement.
Makassar WARP Office Meeting proceeded with discussions in Makassar with five religious leaders from Islam, Buddhism, Hinduism, Confucianism and Catholicism; Prof. Muhammad Galib Mattola (Head of the Quality Assurance Office of UIN Makassar), Mr. Rowin Trianzil (PD. Majelis Agama Buddha Theravāda Indonesia Makassar), Mr. I Ketut Bali Putra (Parisada Hindu Dharma Indonesia), Mr. Erfan Sutono (Majelis Tinggi Agama Khonghucu Indonesia South Sulawesi) and Mr. Agus Ruru (Catholicism).
The speaker of the Makassar WAPR Office, Mr. Rowin Trianzil (PD. Majelis Agama Buddha Theravāda Indonesia Makassar) said that as in Buddhism, the Buddha has explained that the causes of the four stages of life are the three roots of evil, which is lobha (greed), Sin (hatred), Moha (delusion). During living things have not cut down the three roots of this evil, then the same four stages of life will continue to be experienced over and over again by the living creatures, from one life to another.
Also, people from different religions spoke that qualification of religious scriptures is to have the cause of birth, old age, sickness, and death, the four phases of life, and they stated that finding how to solve problems can be sought based on the scriptures.
One of Audiences said that almost all religious leaders have studied their scriptures, however, they don't know what is other scriptures even criticize each other. But I found that peace can be achieved because religious leaders from various faith gather and it could be one of tool for peacebuilding.
Then Participants agreed with the opinion of Mr. Man Hee Lee, the chairman of HWPL said: "Religious peace can be found in scriptures text research."
In Medan WARP Office Meeting, two religious representatives gathered from Islam and Buddhism; Mr. Kasno Sudaryanto (Lecturer in UIN Sunan Ampel Surabaya) and Mr. Rudi Hardjon (PD. Majelis Agama Buddha Theravāda Indonesia Sumatra). They have continuously attended the WARP Office since June 2015
Mr. Kasno Sudaryanto, Speaker of Medan WARP Office said "In Islam scripture, there is something different from Buddhism. But all scriptures have prices of a good and evil deed in common. It can be one of standards for trustworthy scripture." He expressed his enthusiasm that the WAPR Office should be continued.
HWPL WARP Office was established in Indonesia in 2014. It seeks the essence of pursuing the peace of all humanity by setting up standard through examination and comparison process of religious texts. The spirit of peace based on religion aims to the intermediary role for the world peacebuilding. It has been opened not only in Indonesia but also in 209 Offices in 117 countries. (L/R01/RS05)
Mi'raj Islamic News Agency (MINA)