PRESIDENT ABBAS DENOUNCES SINAI ATTACKS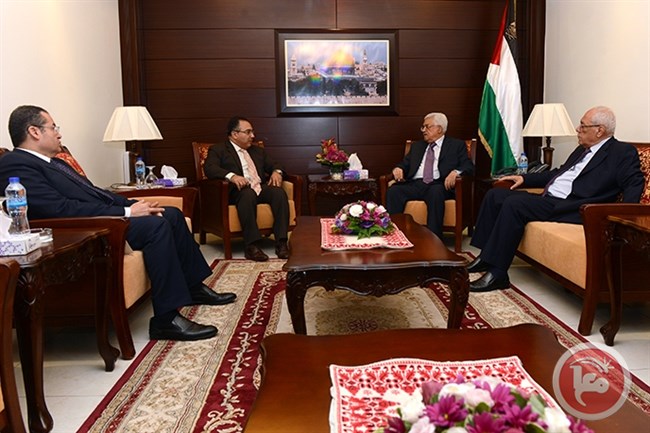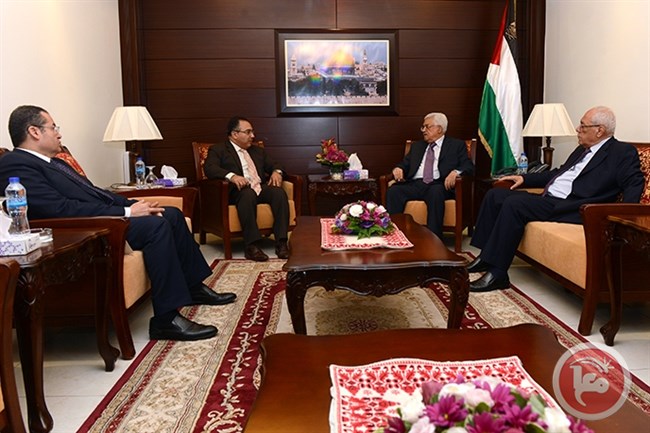 Ramallah, 16 Ramadhan 1436/3 July 2015 (MINA) – President Mahmoud Abbas expressed condolences to the Egyptian president Abdel Fattah al-Sisi as well as solidarity with the Egyptian people Wednesday after an attack in the Sinai Peninsula that left dozens of Egyptian soldiers dead.
In his message, the Abbas described the groups responsible for the attack on Egyptian soldiers as "cowards and terrorists."
"We strongly denounce these brutal, criminal and terrorist acts and those who stand behind them," Abbas said, Ma'an News Agency reports as quoted by Mi'raj Islamic News Agency (MINA).
An estimated 70 were killed Wednesday, mostly soldiers, in the biggest hit thus far in a wave of attacks by the Islamic State group (IS) on Egyptian military targets in the Sinai.
Egyptian F-16 warplanes bombarded the militants as they fought security forces on the streets of the North Sinai town of Sheikh Zuweid after striking military checkpoints in a surprise attack after dawn, reportedly killing around 100 militants.
The militants withdrew from Sheikh Zuweid after almost eight hours of fighting, according to Egyptian officials.
Abbas' condolences reached Sisi Wednesday as Hamas, the de-facto governing power of the Gaza Strip, deployed security forces on the Gaza-Egypt border in the south of the Gaza Strip, which borders the Sinai Peninsula.
Efforts by Hamas to secure the Sinai-Gaza border as well as the Palestinian president's condemnation of the militants who carried out the attacks comes as Hamas has been accused by Sisi's government of aiding militants in the Sinai.
Egyptian military authorities accuse Hamas of direct involvement in planning and executing attacks against Egyptian military targets, as well as intentionally threatening political stability in the region.
Hamas, which denies Egyptian accusations, has suffered poor relations with the Egyptian government ever since democratically-elected Mohammad Morsi, with whom they were closely allied, was thrown out of power in July 2013.
The allegations have resulted in stringent security measures taken by Egyptian authorities, including ongoing closure of the Rafah border crossing from Egypt into Gaza, the destruction of thousands of Palestinian homes to make way for a "buffer zone," and the attempted eradication of an underground tunnel network connecting the two sides.
New anti-terror law
As Wednesday's Sinai attacks were the most brazen in their scope since militants launched the insurgency in 2013, Egypt responded by passing controversial anti-terror law and requesting the appeals process be shortened, in measures it said would "achieve swift justice and revenge for our martyrs."
Sisi, the former army chief who toppled Morsi before winning elections last year pledging to wipe out militants, pledged to toughen laws and suggested fast-track executions following the state prosecutor's assassination.
The government designated Morsi's Muslim Brotherhood a "terrorist group" in December 2013 as part of a crackdown on the opposition that has left hundreds of his supporters dead and thousands in jail.
Hamas was also designated a terrorist group in February due to their affiliation with the Muslim Brotherhood, however the classification was quashed by an Egyptian court last month.
Courts have sentenced hundreds to death, including Morsi, who was convicted of involvement in attacks on police stations. His sentence is currently being appealed.
While the government often blames the Brotherhood for attacks, the deadliest have been claimed by the IS affiliate in Sinai.
Wednesday's attack was similar to a series of ambushes on April 2 in which dozens of militants attacked checkpoints, killing 15 soldiers.
In January, a rocket and car bomb attack on a military base, police headquarters and residential complex for troops and police killed at least 24 people, most of them soldiers.
The dominant militant group in the Sinai, previously known as Ansar Beit al-Maqdis, or Partisans of Jerusalem, pledged allegiance to IS in November 2014. The attacks have come despite increased security measures in the Sinai, including a night-time curfew.
The militants have mostly focused their attacks on soldiers and police, killing hundreds since Morsi's overthrow.
They previously said they avoided targeting civilians but claimed responsibility for a suicide bombing on a tourist coach in February 2014 that killed three South Koreans and their driver. (T/P010/R04)
Mi'raj Islamic News Agency (MINA)