Israeli Police Detain Bedouins in Raid on Negev Village of Al-Araqib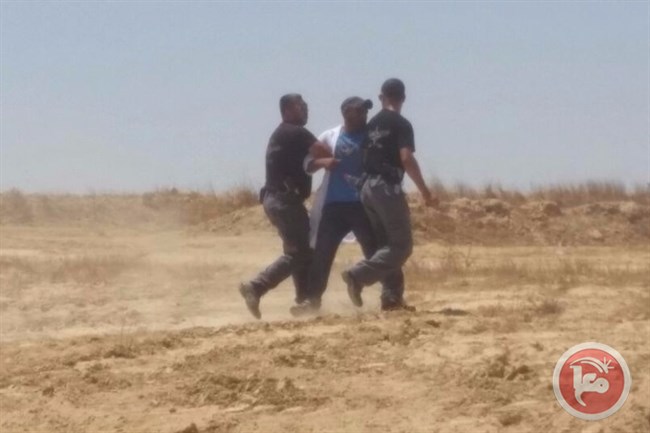 Negev, 20 Syawal 1437/25 July 2016 (MINA) – Israeli police detained several Bedouin residents of the village of al-Araqib in the Negev on Sunday, after locals tried to prevent bulldozers from leveling lands in the village, a local activist told Ma'an.
Aziz Sayyah al-Turi said that Israeli police escorted bulldozers which raided the village in the morning "to take control of about 1,300 dunum (325 acres) of the village's land, which they failed to take in 2011 after angry Arab crowds rushed to defend al-Araqib."
Al-Turi added that Israeli police his wife and son, as well as at least two other al-Araqib residents he identified at Talal Abu Mudeghem and Ashraf Salim Abu Mudeghem.
Al-Turi added that he himself, along with his father Sheikh Sayyah al-Turi, were also temporarily detained.
Al-Turi said that three young women were also injured during the raid when they were "brutally" attacked by police forces.
Al-Turi and his father had also been detained on Thursday during one of a number of raids Israeli police have carried out in the village in past weeks.
Al-Araqib has been demolished at least 100 times by Israeli forces, as the village was designated as an "unrecognized" village by Israeli authorities, alongside 34 other Bedouin villages scattered across the Negev desert.
According to the Association for Civil Rights in Israel (ACRI), more than half of the approximately 160,000 Negev Bedouins reside in unrecognized villages.
Israel can refuse residents of unrecognized villages access to the national water and electricity grids, health and educational services, and basic infrastructure.
Though Bedouins are citizens of Israel, the villages unrecognized by the government have faced relentless efforts by the Israeli authorities to expel them from their lands in order to make room for Jewish Israeli homes. (T/P010/R07)
Mi'raj Islamic News Agency (MINA)