ISRAELI FORCES DETAIN 15 ACROSS WEST BANK, EAST JERUSALEM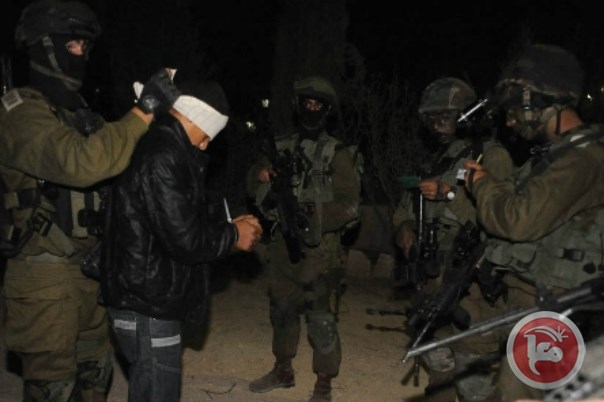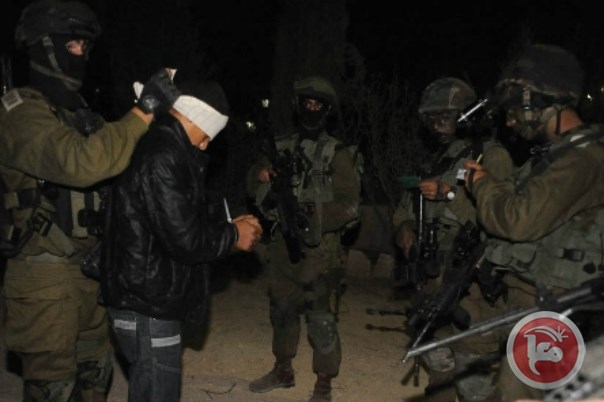 Jenin, 15 Sya'ban 1436, 2 June 2015 (MINA) –  Israeli forces detained at least 15 Palestinians in raids across the occupied West Bank and East Jerusalem overnight Monday.
While local sources said 10 Palestinians had been detained in the West Bank and five in East Jerusalem, an Israeli army spokeswoman said 15 had been detained in the West Bank alone.
Palestinian security sources said a man and his son were detained from Jenin refugee camp in the northern West Bank after Israeli forces stormed the camp overnight, Ma'an News Agency  as quoted by Mi'raj Islamic News Agency (MINA).
The detainees were identified as 50-year-old Khalid Abu Zeina and his 16-year-old son Riyad.
Clashes broke out during the raid between locals and Israeli troops who "haphazardly" fired tear gas canisters and stun grenades, security sources said.
At a flying checkpoint near Ramallah, Israeli troops detained Hikmat Mahmoud Auda, 25, and Jasim Mahmoud Auda, 22, both from the northern West Bank village of Sayda in Tulkarem.
Israeli soldiers also detained 19-year-old Baraa Ibrahim Hamid from his family house in the central West Bank village of Silwad.
Three young Palestinian men were reportedly apprehended from Ein al-Sultan refugee camp in Jericho. The Palestinian Prisoner's Society identified them as Yazan Farid Abu Lawi, Jihad Mahmoud Manasra and Samir Muhammad Rafiq Ibrahim.
Israeli forces also arrested 17-year-old Mohammad Salem Faleh Al-Razem and Walid Ahmad Abu Turki, 22, from Hebron.
An Israeli army spokeswoman reported different details, saying that there had been two arrests in Jenin, one in Silwad, two in al-Eizariya, one in Surif, three in Sultan and six in Hebron.
She said that the Palestinians had either been arrested for affiliation to Hamas or for "disturbing the order."
Five arrests were also reported in East Jerusalem, according to human rights group Addameer.
The group's lawyer Muhammad Mahmoud identified the detainees as Basil Shweiki, 20, Nasim Shweiki, 27, Murad Sheiki, 20, and Hashim Abu Khalid from Silwan neighborhood, and Walid Firawi from his home in the Old City.
An Israeli police spokesperson could not be reached for comment.
Israeli forces routinely detain Palestinians throughout the West Bank and East Jerusalem, often on the pretext of perceived security threats, and Addameer estimates that 40 percent of the Palestinian male population has been arrested at some point.
More than 6,000 Palestinian prisoners are currently being held in Israeli jails. (T/P010/R04)
Mi'raj Islamic News Agency (MINA)