ISRAEL PAY STUDENTS FOR PROPAGANDA IN SOCIAL MEDIA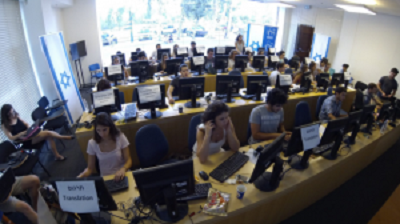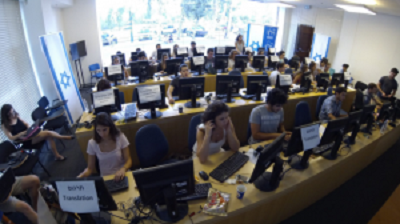 Tel Aviv, 22 Ramadan 1435/20 July 2014 (MINA) – About 400 students at Inter disciplinary Center (IDC) in Herzliya, north Tel Aviv registered as volunteers in an Israeli propaganda program,  aimed at creating Israeli 'good images' through various types of social networks.
According to Huffington Post report before, Israel paid about USD 2000 for every student  helping in this propaganda program.
Students fulfilled computer lab in IDC who were busy with their duties. They played role in war between Israel and Hamas fighters in Gaza since two weeks ago, Australia media smh.com as quoted by Mi'raj Islamic News Agency (MINA ), Saturday.
Every of them has own duties for the program, Room named "The Advocacy room" fulfilled with young people who designing drawings, comic provocation, drawing accusations to Palestinian fighters and translating it into many languages​​.
In the room, there were teams translating messages from Hebrew into 30 languages ​​and creating graphics and images to be shared via Facebook and Twitter, said IDC students Igal Raich (23).
They Inspired by role of social media during the Arab Spring in the Middle East. They also got support from Israeli government and its  Defence Force. The students claimed that they had closed many anti-Israeli facebook pages.
"School give us the computer lab. We work from nine in the morning until eight at night," added Raich who moved from Canada to join with the Israeli military.
There were also video editing team  and talkback teams who keep monitoring social media to look for facts made ​​by supporters of Palestinian, Raich added.
Raich said Israeli students also played similar role during the Israeli operation "Pillar of Defence" in 2012 to Palestinians in Gaza. The operation caused hundreds of people died at that time.
According to university figures, 1600 students joined the propaganda messages to more than 21 million people from 62 countries and in 31 languages​​. Prime Minister, Foreign Minister and Defence Force of Israel appreciated efforts of universities facilitating their military works.
"We continue getting latest report from office of Prime Minister and Minister of Foreign Affairs because they know we  were success in what we are doing," said Raich. (T/Syt/P03)
Mi'raj Islamic News Agency (MINA)