TWO INDONESIANS DEAD, 31 INJURED IN MECCA CRANE ACCIDENT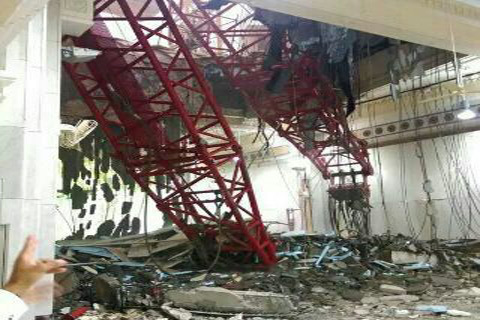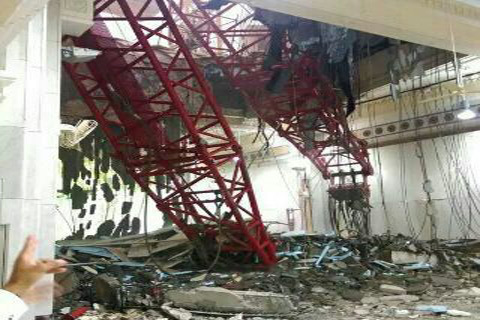 Riyadh, 28 Dhulqo'dah 1436/12 September 2015 (MINA) –  Two Indonesians have died and 31 others were injured by a falling construction crane at Meccas Grand Mosque, Saudi Arabia, on Friday at 05:30 p.m. local time, official said.
Religious Affair Minister Lukman Hakim Saifuddin said, while speaking during a live press conference held in Mecca on Saturday, that the injured remain hospitalized at Annoor Hospital and Hajj Healthcare Center in Mecca, Antara News reported.
Meanwhile, the bodies of two Indonesians, who were identified as Masnauli Sijuadil Hasibuan, 59, and Iti Rasti binti Darmini, 57, were sent to Ayjad Hospital, also in Mecca.
Minister Saifuddin has also visited hajj pilgrims who had had been cared for at Annoor Hospital.
"Hopefully, they will be better soon and, of course, the government will be paying some compensation for both the injured and dead victims, as regulated in the insurance provisions which were assigned to each of our hajj pilgrims," Saifuddin explained.
The Indonesian Hajj Coordinating Committee in Saudi Arabia has opened an Indonesian hotline for members of the public who have family members on hajj pilgrimage and are seeking further information. The number is +966 543603154.
The following is the list of Indonesian victims of the crane accident, as published by the Religious Affairs Ministry:
1. ITI RASTI DARMINI, Passport Number: B0716645 (dead)
2. MASNAULI SIJUADIL HASIBUAN, Passport Number: B1061545 (dead)
3. SUJI SYARBAINI IRONO, Passport Number: B1306321
4. ERNAWATI MUHAMMAD SAAD, Passport Number: A4761751
5. KURSIA NANTING LEMBONG, Passport Number: B0507644
6. NASRIAH BINTI MUHAMMAD ABDURRAHMAN, Passport Number: B1175082
7. ARDIAN SUKARNO EFFIEN, Passport Number: B0907275
8. TETI HERAWATI MAD SALEH, Passport Number: B0941422
9. APIP SAHRONI ROHMAN, Passport Number: B0941479
10. EMMIWATY JANAHAR SALEH, Passport Number: B1354467
11. NUR BAIK NASUTION, Passport Number: B1061239
12. SOPIAH TAIZIR NASUTION, Passport Number: A6773447
13. TRI MURTI ALI, Passport Number: B0396519
14. ZULFITRI ZAINI HAJI, Passport Number: A3910753
15. ZALNIWARTI MUNAF UMMA, Passport Number: B0393772,
16. ALI SABRI SELAMUN, Passport Number: B0785804
17. UMI DALIJAH AMAT RAIS, Passport Number: B0957604
18. ENDANG KASWINARNI POERWOMARTON, Passport Number: B1107076
19. DJUMALI JAMARI SETRO WIJOYO, Passport Number: B1496896
20. MURODI YAHYA KASANI, Passport Number: B0754094,
21. HASAN MANSUR AHMAD, Passport Number: B0746467,
22. SAINTEN SAID TARUB, Passport Number: B0992684
23. NURUDDIN BAASITH SUJIYONO, Passport Number: B1035292
24. ISNAINY FADJARIJAH ABDUL DJUMALI, Passport Number: B1052806
25. SAHARMI UMAR PASSIRE, Passport Number: B0590380
26. NORMA LATANG KULASSE, Passport Number: B1161965
27. ROSNALLANG CACO BABA, Passport Number: B0901348
28. HADIAH SYAMSUDDIN SAK, Passport Number: B1162080
29. MUHAMMAD HARUN ABDUL HAMID, Passport Number: B1163100
30. FATMAWATI ABDUL JALIL, Passport Number: B1162645
31. ABDUL JALIL CONCI LETA, Passport Number: B1162600
32. ROSDIANA MUDU TOHENG, Passport Number: B1162756
33. ERNI SAMPE DOSEN, Passport Number: B1162715. (T/R04/R03)
Mi'raj Islamic News Agency (MINA)