HWPL Korea Joined in "Peacetival" Makassar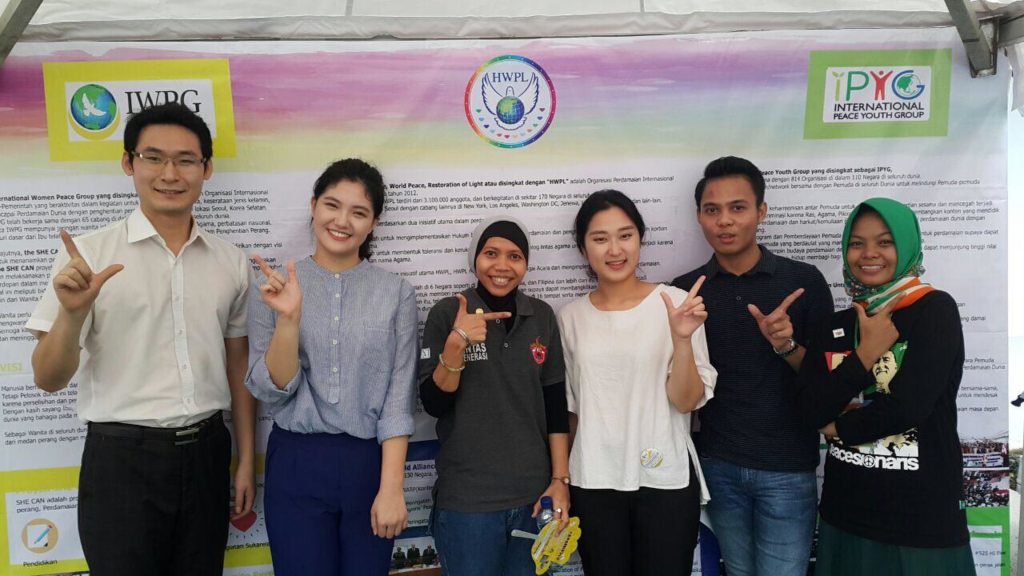 Makassar, Indonesia, 16 Jumadil Awwal 1438/14 February 2017 (MINA) – Peace Generation, one of major peace organization in Indonesia held Peacetival with sixteen peace organizations including HWPL, an International Peace organization based in South Korea, and five media corporations.
Peacetival is a mixed word using peace and festival. It is a biennial event, and it was successfully held in Bandung by 2015. Then the Peace Generation chose the next place "Makassar in Sulawesi" to let more people be able to know about peace and join the Peacetival.
Since Sulawesi is the 11th largest island in the world and Makassar is the main city in Sulawesi, Makassar is considered as the second capital.
In the Peacetival, there were music performances, games, experiences such as creating post-card and coloring, and exhibition based on peace.
HWPL which participated in the exhibition operated a booth. They introduced HWPL's peace activities and informed importance of Declaration of Peace and Cessation of War (DPCW). Then they gathered signatures for supporting DPCW.
The DPCW was proclaimed on 14 March 2016 by the HWPL International Law Peace Committee made up of leading experts, inspired by Chairman Lee's advocacy and efforts of building cooperation.
The DPCW includes legal and cultural mechanisms to develop peacebuilding efforts with collective cooperation in governments, civil societies, and international organizations.
Meanwhile, there was event for writing messages that desire peace and well-being on the wall of the booth where there was a map of Indonesia.
Jm John (SUAKA Indonesia) who joined in Peacetival said that it's been a great privilege that I could see the Peacetival. I think that this is what I have been looking for, aiming to penetrate a window into the darkness part of the world by hearing the voice of those suffering from human rights violations as well as persecution.
"It is my great pleasure to contribute my thoughts loving peace through your organization, and I hope that I will be given a chance to work with the like- minded people who have the same ultimate goal of peace and harmony," said John.
HWPL is taking steps for establishment of branch office, and they are joining actively in local events, being in harmony with local organizations. (L/R01/P02)
Mi'raj Islamic News Agency (MINA)