HANIYEH CALLS FOR UNITY AGAINST ISRAELI OCCUPATION OF AL-AQSA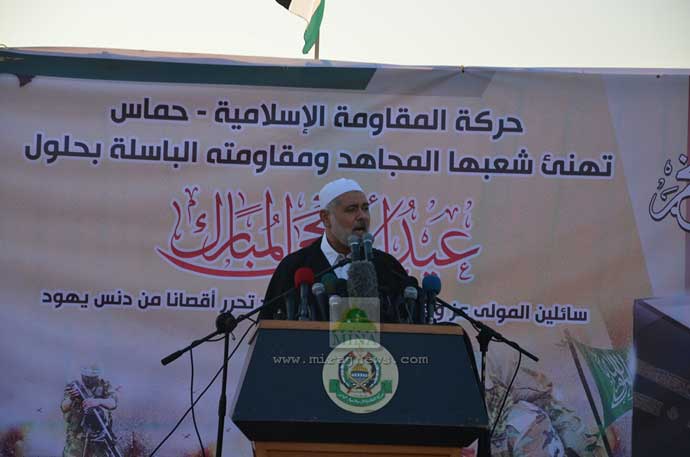 Gaza, 12 Dhulhijja 1435/6 October 2014 (MINA) – The Former Palestinian Prime Minister, Ismail Haniyeh, called on all Muslims wherever to be re-united against the ongoing Israeli occupation of Al-Aqsa mosque and Palestine.
"From this holy land of blessed Palestine, I convey to the whole ummah (Muslim), to re-unite as one body, and hold fast to the rope of Allah," Haniyeh said in an Eid al-Adha sermon in Gaza City, Saturday.
After the prayer, Haniyeh reiterated the main problems in the world today is the conflict with the Israeli occupation, not sectarian strife, or disputes between people and nation. Palestinians are representing Muslims fighting the occupation for the sake of liberation of the Muslim holy mosque.
"A victory has been achieved by Gaza fighters during the recent battle to restore the area, and I reiterate that the main problem of this conflict is that we, the Palestinians fight against the invaders, not the sectarian conflict, not a conflict with people and other nations," said Haniyeh as quoted Mi'raj Islamic News Agency (MINA).
He also called on the Arab world to work harder in building the unity among all Muslims around the world and stop immediately the bloodshed in Arab lands.
"Unite and work to achieve unity and stop the bloodshed in the Arab lands, so that the main conflict is Israel colonizing  Al-Aqsa Mosque, Al-Quds and Palestine," said Haniyeh.
Commenting on the reconciliation, Haniyeh claimed that the Hamas movement remains committed to the process and resolving the points of unity with Fatah movement in the West Bank.
"Our decision is to choose the path of reconciliation and unity, and our message on the day of Eid al-Adha is unity and the need to sit in together," he added.
He continued,, his movement would not allow their weapons of resistance to be disarmed by anyone and confirmed their weapons will not be directed against anyone except only against invaders (Israel). (L/ K01/R04/R03)
Mi'raj Islamic News Agency (MINA)