Gazans Converge Along Israel Buffer Zone; 3 Killed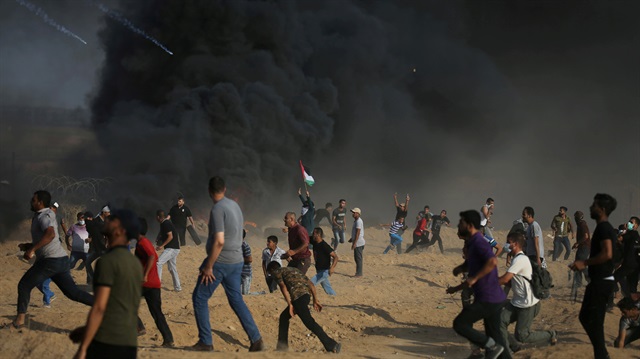 Gaza City, Palestine, MINA — At least three Palestinians was killed Friday — and nearly 40 people were injured — while taking part in ongoing demonstrations along the Gaza-Israel buffer zone, Anadolu Agency reported, citing Gaza's Health Ministry.
Mohamed Mouin al-Jahjouh, a 16-year-old demonstrator, was killed after being struck in the neck by Israeli army gunfire, the ministry said in a statement.
Another 40 Palestinian protesters — including four medics and two journalists — sustained injuries, the ministry added.
Later in the day, two of the injured, — Abdulaziz Abu Sharia, 28, and disabled Maher Yasin, 40, — succumbed to their wounds, the ministry said.
For the 39th week in a row, Palestinians converged along the Gaza-Israel buffer zone Friday to take part in ongoing demonstrations against Israel's decades-long occupation.
This Friday's Gaza rally was held under the slogan, "Honoring heroes of the resistance".
In a statement, Gaza's National Authority for Breaking the Siege urged members of the public to take part in Friday's demonstration.
"These demonstrations draw their strength from the heroes of the resistance and from their sacrifices," the statement read.
It went on to urge the Palestinian people to "escalate all forms of resistance against Israel's occupation".
Protesters demand the right to return to their homes and villages in historical Palestine, from which they were driven in 1948 to make way for the new state of Israel.
They also demand an end to Israel's 12-year blockade of the Gaza Strip, which has gutted the coastal enclave's economy and deprived its roughly two million inhabitants of many basic commodities.
Since the rallies first began on March 30, more than 240 Palestinians have been killed — and thousands more injured — by Israeli troops deployed near the buffer zone, according to Gaza's Health Ministry. (T/RS5/RS1)
Mi'raj News Agency (MINA)