Collaboration for Peace: Indonesia hosts Trilateral Ulema Conference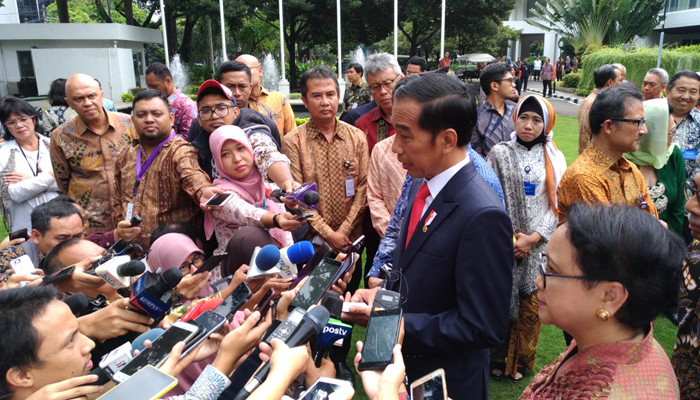 Jakarta, MINA – Indonesian President Joko Widodo is scheduled to officially open the Trilateral Ulema Conference of Indonesia, Afghanistan and Pakistan, to be held at the Istana Bogor, on 11 May 2018 with The Indonesian Ulema Council (MUI) as the host.
This is a historic and momentous as the first ever meeting of ulema from these three large Muslim countries, representing more than 488 million of Muslim population.
Carrying the theme "Islam as Rahmatan lil Alamin, Peace and Stability in Afghanistan", prominent ulema who are attending the meeting will discuss their role in sowing the seed of peace and stability in Afghanistan. There are five issues such as peace and friendship in Islam; violent extremism and tolerance; the role of ulema; the role of the state; and the way forward will become the agenda of the conference.
According to a statement of Indonesian Foreign Ministry Retno LP Marsudi, peace and stability in Afghanistan has been Indonesia's long-standing focus, as clearly reflected by President Joko Widodo's recent state visits to Pakistan and Afghanistan last January. In the meetings with Presidents Ashraf Ghani of Afghanistan and Mamnoon Hussain of Pakistan, as well as with Prime Minister Shahid Abbasi of Pakistan, President Widodo conveyed a proposal to hold a trilateral ulema conference in Indonesia. The proposal was welcomed and received favourable support.
It is expected that the participating of ulema at the meeting may convey the message of peace in Afghanistan as expressed by Vice President Jusuf Kalla at the 2nd Kabul Peace Process Conference in Afghanistan, last February.
Vice President Jusuf Kalla is expected to close meeting.
The Istana Bogor is specifically chosen, not only for its stature as the venue for very special occasion as one of the six Presidential Palaces, but also in the past, hosted a number of peace efforts initiated by Indonesia. They include, among others, the Jakarta Informal Meeting between factions in Cambodia (1988), mediation of Thai-Cambodian Conflict (2011), and MILF-MNLF special session (2012).
Symbolically, the Istana Bogor represents Indonesia's long-standing contribution to peace, as well as the nation's spirit for peace. The success of the Trilateral Ulema Meeting will hopefully bring a new chapter in the peacebuilding process.(L/R04/P2)
Mi'raj News Agency (MINA)