Canadian Muslim Students Hold Islamic Awareness Week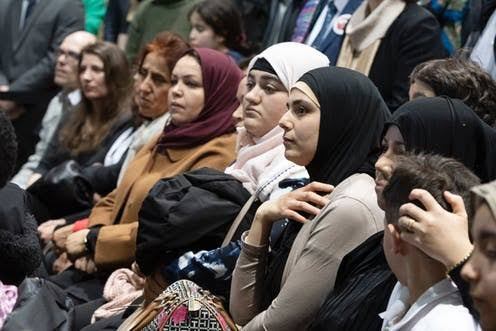 Illustration. Photo: The Conversation
Calgary, MINA – Muslim Student Afialisi at the University of Mount Royal in Calgary, Canada held an Islamic Awareness Week that began on January 20-24, 2020.
The activity is a way for students at Mount Royal University in Calgary to fight Islamophobia by educating themselves and others about Islam.
Present as the opening speaker was Deputy Editor of the Muslim news site 5 Pillars Dilly Hussain.
She has seen an increase of Islamophobia in Europe and the United States, as quoted from the globalnews page on Thursday.
"If there is a growing sentiment among non-Muslims in the Western world that Muslims believe about x, y and z or they find certain rituals or beliefs to be problematic or contrary to liberal secular values, then we need to have a dialogue," Hussain said.
She hopes that more people will begin dialogue between religious believers.
In her presentation, Hussein focused on Muslims to be more vocal, especially during weak political times. She considered the situation was not for the better.
"So the best thing to do is not just stay inside. You really need to be out there and interact, " she said.
The lecture, which featured scholars with real-life experiences about combating Islamophobia, was held all week at the Jenkins Theater at the university. One of the topics to be discussed is the matter of burning Al-Qur'an and jihad.
Canada, the northernmost country in North America, with a population of more than 35 million, is a rapidly developing Muslim region.
The survey shows that the Muslim population is more than 1 million or around 3 percent. The Canadian Statistics Agency in 2013 noted that the Muslim population has outgrown other religions. (T/RE1)
Mi'raj News Agency (MINA)