Around 700 French 'Jihadists' Active in Syria, Iraq, Says Interior Miniter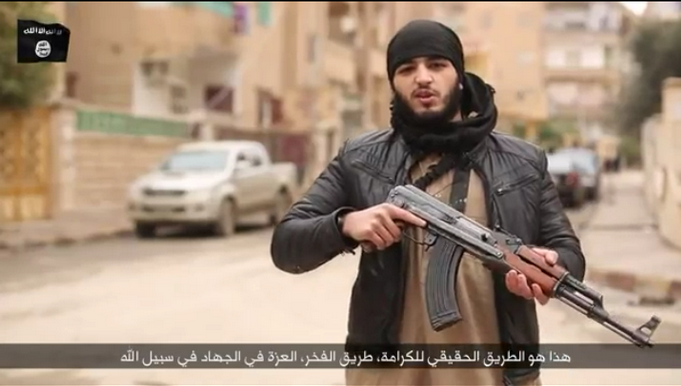 French foreign fighter – Al-Hayat Media..
Paris,1 Shawwal 1438/7 July 2017 (MINA) – There are still around 700 French "Jihadists" fighting for the so-called Islamic State (IS) in Syria and Iraq, often accompanied by their families, but should they return to France, they will be intercepted by security services, KUNA reported, citing Interior Minister Gerard Collomb on Thursday.
At an earlier stage, there were well more than 1,000 French "foreign fighters" involved in the IS terrorist group in the Syrian and Iraqi conflicts, but a certain number have been killed and others have sought to flee the region.
"If (the 700) come back – which is not sure – they will be taken in hand by the (security) services," Collomb said in an interview with CNews TV station.
He said that severe "re-radicalisation" would be required for these fighters "who are not welcome" here and he indicated that those responsible for atrocities such as the killing of hostages would be treated as "war criminals." France is on its highest level of vigilance to prevent any attacks like the series of terrorist operations that killed 238 people here since January 2015.
Tens of thousands of extra police and troops are deployed around the country and this number will be strengthened during the summer holiday period, Collomb indicated.
"There will be no vacation for the police," this summer, he pointed out.
The Interior Minister also said that since the beginning of the year, seven terror operations have been foiled and many lives saved.
French MPs are currently debating and expected to vote another extension of the "State of Emergency" that was put in place to allow police to detain, search and monitor suspects here, without judicial oversight in many cases.
Collomb said that a new law would be prepared after the next extension of the emergency powers to allow for "a very strictly defined" framework for police and security services to operate, specifically for terrorist activities and not to interfere in normal life.
He also revealed that 16 Islamic institutes, Mosques or cultural centres have been closed here since the State of Emergency was put in place. All were promoting radicalism or violence and a number have been reopened with different staff.
Collomb defended the actions of police and intelligence services and the raids that he said have produced results – including "seizures" of material.
He further indicated that three more Islamic institutes or Mosques were about to be closed in line with European legislation on human rights and exercise of religious rites. (T/RS5/RS1)
Mi'raj Islamic News Agency (MINA)