AMERICAN MUSLIM YOUTH COMMUNITY ORGANIZES ANNUAL HALAL FOOD FESTIVAL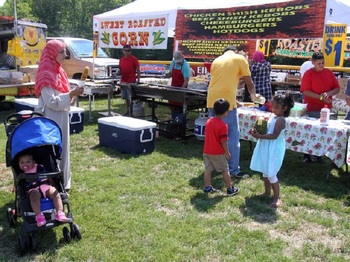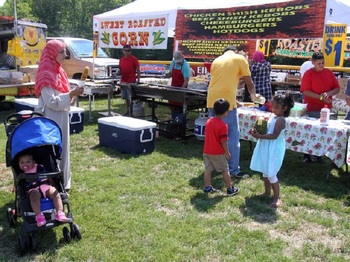 America, 3 Dzulqa'dah 1436/18 August 2015 (MINA) The American Muslim youth community center has organized for consecutively for years an annual halal food festival to draw Muslim families and also to enhance friendship ties with non-Muslims.
This year's festival, held Saturday at Rowland Park, drew vendors from Central Jersey, New York City and even as far away as Ohio. Thousands of people attended and they included many local and immigrant Muslims as well as non-Muslims, AhlulBayt (a.s) News Agency (ABNA) quoted by Mi'raj Islamic News Agency (MINA)as reporting.

Crescent Foods, a company that sells halal meats, had an information booth at the festival. The company sells meat to select Walmart stores in several Mid-Atlantic states, as well as Central Jersey.
East Brunswick Flemington, Freehold and Phillipsburg Walmarts carry the firm's foods. The company's products have no added antibiotics, no animal by-products, and no added hormones. The animals eat all vegetarian diets, are raised cage-free and are treated well, the company literature states.
Food has a way of bringing people together, even across bitterly drawn lines. "Want to appeal to all communities," said Sami Shaban, one of the organizers of the event. "For instance, we want all Muslims to come together over delicious food. But we want more people to come. We want all of South Brunswick to come and taste our delicious food."
Vendors at the fair were selling food from many countries, from Turkey and the Middle East to traditional American items such as burgers and fried chicken. Much of the food was grilled, including corn, and several vendors were selling meat and rice dishes.
Shaban was particularly proud that the Halal Guys, a New York company with 42,000 Facebook followers, was selling food at the festival. Shaban expected 4,000 attendees by the end of Saturday.
From New Brunswick, 25 Burgers were there, serving an all-Halal menu. In fact, that vendor was handing out menus with 35 burgers on it.
"It's great food," Salman Tarar said. "It's Halal, it's good. We will definitely come again next year."
The strong Muslim tradition of charity also was present at the festival. Shaban's mother, Najwa Alsadi, who owns a school bus company in Totowa, and her grandson were selling snacks and toys for the second year to raise money for Syrian refugees.
Last year, they sold $2,000 worth of toys and snacks, and Alsadi matched that dollar for dollar. Then they found another company that would match their $4,000, enabling them to donate $8,000 for Syrian relief to Islamic Relief, which works with UNICEF to get aid to Syrian refugee and Palestinians in Gaza. They hoped to do at least as well this year.
Two international relief organizations also had booths at the festival, Islamic Relief and Helping Hand. Both have operations around the world, engaged in micro-financing, disaster relief, orphan sponsorship, health care and education.  (T/Imt/RO6)
Mi'raj Islamic News Agency (MINA)