Abbas to Propose Large-Scale Land Swap with Israel, Says Official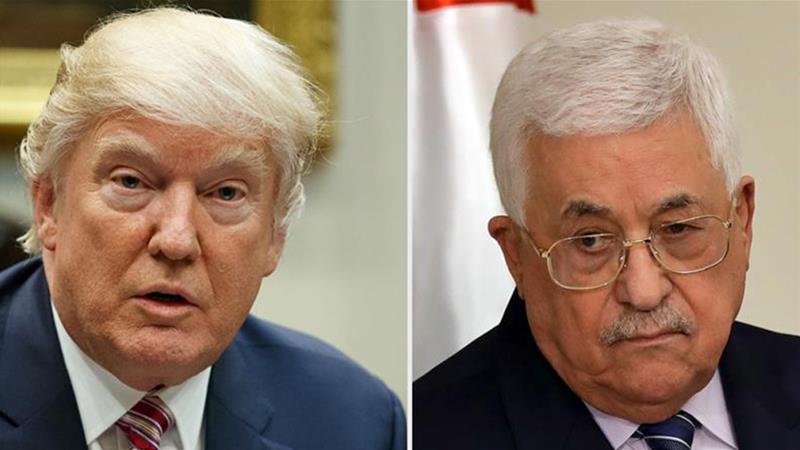 President Donald Trump and Mahmoud Abbas.

A Palestinian official says President Mahmoud Abbas will propose exchanging 6.5 percent of the Palestinian territory to Israel, more than triple the amount put forward in a previous land-swap initiative..
The official close to the Palestinian Liberation Organization (PLO) told Middle East Eye on Sunday that Abbas would make the proposal during US President Donald Trump's forthcoming visit to the West Bank.
"The Palestinian side will be presenting a new vision which is quite detached from that of the majority of the Palestinian people. This vision is based on exchanging a lot of Palestinian lands," the official said.
"Previous discussions about a Palestinian-Israeli settlement revolved around the exchange of only 1.9 percent of the lands, but now we are talking about more than triple that amount," he noted.
During the 2008 Israeli-Palestinian talks, former Israeli prime minister Ehud Olmert floated the controversial idea of land swaps, offering parts of the occupied territories in exchange for keeping major Israeli settlements in the West Bank.
PLO Secretary General Saeb Erekat said Olmert wanted 6.5 percent of the West Bank in exchange for the occupied territories equivalent to 5.8 percent of the West Bank.
A source at the Palestinian Foreign Ministry said the 2008 negotiations failed as the Palestinians only agreed to exchange a much smaller percentage of its lands.
Israel occupied East Jerusalem al-Quds during the 1967 war and later annexed it, declaring the whole city its indivisible capital despite an outcry from the international community. Palestinians want the city as the capital of their future independent state.
Abbas met with Trump in Washington in early May, urging his American counterpart to resume Israeli-Palestinian talks under the 2008 offer made by Olmert.
Tel Aviv "is more radical than ever
The last round of the discussions collapsed in April 2014, with Israeli settlements cited among major reasons behind the failure.
Trump, who is now in Saudi Arabia on the first leg of his Middle East tour, is set to visit Palestine on Tuesday.
Palestinian officials believe Trump's visit will do little to resolve the decades-old Israeli-Palestinian conflict because Tel Aviv "is more radical than ever before and will not be responsive to any initiative."
"The issue is not about Trump or Obama or Abu Mazen (Abbas), the issue is that Israel does not want to withdraw from the West Bank or from Gaza nor does it want to end the occupation," said Awni al-Mashni, a member of the Palestinian Fatah movement.
Washington has recently suggested that it would no longer insist on the so-called two-state solution to the Israeli-Palestinian conflict. It has also pledged to relocate the American embassy from Tel Aviv to Jerusalem al-Quds, sparking widespread condemnations.
On Saturday, Erekat warned that moving the American embassy would end the "peace" process between the occupying regime of Israel and the Palestinians. (T/RS5/RS1)
Mi'raj Ilamic News Agency (MINA)