12th Times, Indonesia Army Win AASAM Shooting Competition in Australia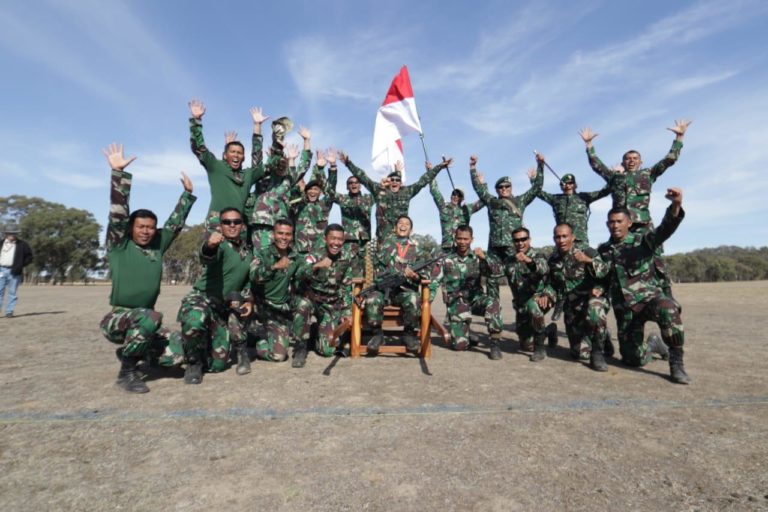 The Indonesian National Army Army (TNI AD) became the overall champion of the prestigious shooting competition. (TNI AD)
Puckapunyal Military Range, Victoria, MINA – Indonesia National Armed Forces (TNI AD) became the overall champion of prestigious shooting competitions between the Army from 20 countries in the Asia Pacific region, several countries from the Americas and Europe.
This international level shooting competition is held by the Royal Australian Army for 8 days starting March 26 – April 2 2019 in the Puckapunyal Military Range, Victoria, Australia, Tuesday.
Indonesian Army received 21 gold, 14 silver and 10 bronze medals from various contested shooting competition materials entitled Australian Army of Skill Arms at Meeting (AASAM).
Commander of the Army Strategic Reserve Command (Pangkostrad) Lt. Gen. Harto Karyawan revealed, this achievement was the 12th consecutive time during the AASAM shooting competition.
In this event, 1st place was won by the Indonesian contingent, 2nd place was the Australian contingent and 3rd place was from the Malaysian contingent.
Five Indonesian Army shooters were also included as the 20 best shooters selected to join the 104 Match Championship of the 2019 AASAM participating countries.
Then three TNI AD shooters came out as champions in the 104 Match Championship, namely Sertu Woli as the first winner, Sertu Misran as Champion 2 and Kopda Arifin as 3rd Place.
With these results, Indonesia Army was declared the General Champion of the 2019 AASAM Shooting Contest. (T/Sj/P2)
Mi'raj News Agency (MINA)