Trump Demands New York Times for Anonymous Criticism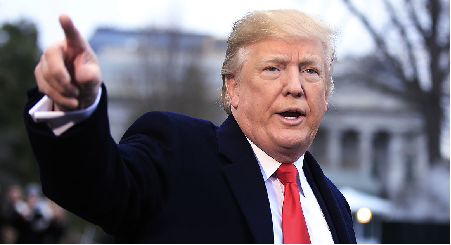 Washington, D.C, MINA – The 45th President of the United States Donald John Trump demanded the New York Times (NYT) newspaper apologize for an anonymous article that criticized the President's "petty and ineffective," leadership style.
The Times said that the anonymous writer is a senior administration official who his job would be threatened if his identity was publicly known. VOA News reported, as quoted by MINA.
The anonymous writer wrote that the president's worst impulses were often thwarted by his own staff. In the article, he also wrote that "it  maybe feels comfortable in this chaotic era" but it needs Americans to know that "there are adults in the room."
Trump responded to the article with a series of comments after being published on Wednesday, including tweets that demanded the name of the newspaper as a source of persecution.
"Does the so-called 'Senior Administrative Officer' really exist, or is it just NYT's failure with another fake source?" Trump said on Twitter. "If an anonymous GUTLESS writer does exist, the Times must submit it for the purpose of National Security to the government!"
The statement was answered shortly after Trump published a one-word message on Twitter: "TREASON?"
Trump's top administrative officials deny that they are anonymous writers of the NYT opinion piece.
National intelligence director Dan Coats released a statement saying: "Speculation written by NYT on my behalf or Deputy Chief Deputy is wrong, we did not," he said.
Other rejections were also issued by the Defense Secretary Jim Mattis, U.N. ambassador Nikki Haley, Treasury Secretary Steve Mnuchin, Homeland Security Secretary Kirstjen Nielsen, Labor Secretary Alex Acosta and Energy Secretary Rick Perry.
Right after Trump's sudden statement, White House Press Secretary Sarah Huckabee Sanders issued a statement with calling the article "sad, reckless, and selfish," and describing the action as inferior what so-called notes. "
Sanders said the Times had to issue an apology and said that the publication of the article was considered as another example of liberal media efforts to discredit the President." said her.
As for the anonymous writer, the press secretary accused this person," he does not prioritize the interests of the state but placing himself and his ego before the interest of the American people. This coward must do the right thing and resign." (T/Sj/RS%)
Mi'raj News Agency (MINA)