Palestinian Governor in Jerusalem Under House Arrest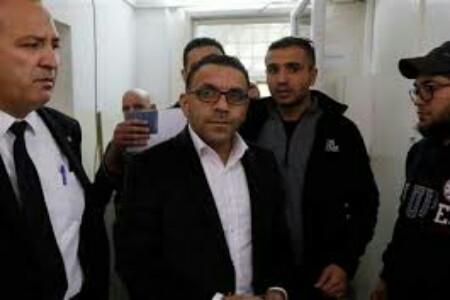 Al Quds, MINA – Palestinian governor in Al-Quds (Jerusalem), Adnan Gheith arrested by Israeli authorities under house arrest, according to the results of a court ruling on Sunday.
The change in status to house arrest was imposed for three days as part of an investigation into the case of land sales.
"Adnan Gheith who was arrested on November 25 will be detained at his home until Tuesday (11/04)" said Chavi Toker, a judge at the Jerusalem court, as quoted Al-Jazeera.
Police have been investigated Gheith for alleged involvement in the arrest of a Palestinian-American citizen, Issam Akel, by the Palestinian Authority on October, accused of involvement in the sale of a building in East Jerusalem to Jewish buyers.
Police also suspected that Gheith has recruited Palestinians in Jerusalem to join the Palestinian Authority's armed forces, which according to Israel violated the 1993 Oslo Agreement.
Meanwhile, Palestinian officials have criticized the Israeli government's actions on Gheith detention, which they say is intended to pressure the Palestinian leader over Akel's case.
Among Israelis, including US Ambassador David Friedman, called on the authorities to release the man arrested by the Palestinian Authority.
Gheith's lawyer, Rami Othman, said the Israeli court's decision to make his client a house arrest is proof that the case is not a serious thing.
"They just want to disturb them," Othman said in response to the court's decision to his client.
"They don't want him to remain governor in Jerusalem. They don't like him because of his position," Othman added.
Previously, on October 20, Gheith was detained for two days and underwent an examination by Israeli police before being released.
The domestic Shin Bet Israel security agency said the detention was carried out after reports of illegal activities by the Palestinian Authority in Jerusalem.
Gheith also have several police inspections in recent weeks after his office in East Jerusalem was raided on November 4. (T/Sj/P2)
Mi'raj News Agency (MINA)