Mukaab, A Giant Cube Building Similar to Kaaba in Riyadh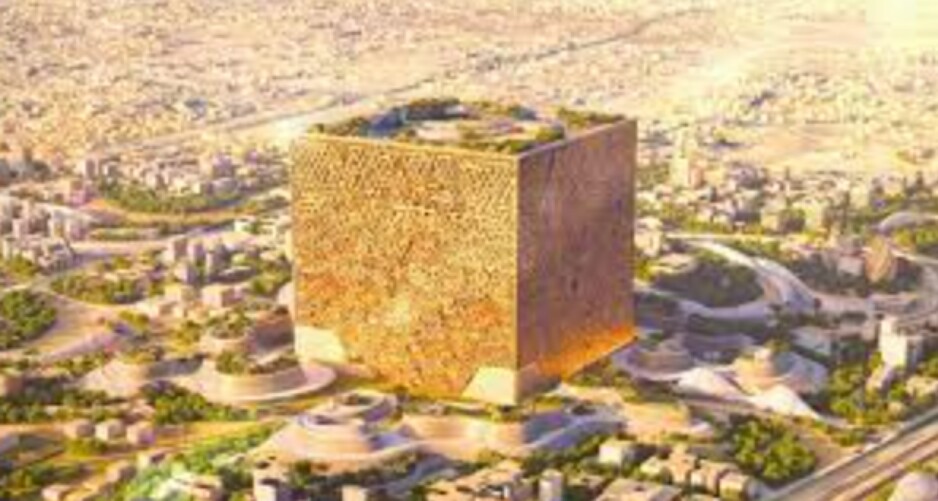 Saudi Arabia is building a giant cube in the middle of a new city center in the capital city of Riyadh.
The design of the building, which observers say is "like the Kaaba", named The Mukaab, is the latest in a long line of buildings and cities, with a unique shape planned by the Saudi Kingdom.
Crown Prince Mohammed bin Salman (MBS) launched the project on Thursday, 16 February 2023, through his New Murabba Development Company (NMDC) or New Murabba for short.
New Murabba, the corporation headed by Crown Prince MBS, calls it "the world's largest modern urban center in Riyadh".
The project will feature an iconic museum, a university of technology and design, a multi-purpose immersive theater and more than 80 entertainment and cultural venues, according to a statement by the Saudi Arabian Public Investment Fund.
Mukaab, which means cube, is a gigantic structure measuring 400 meters long, wide, and high, composed of overlapping triangular shapes, in an architectural style inspired by the Najd region of Saudi Arabia.
Mukaab will be "a memorable destination and a world first experience, complete with digital and virtual technology, with the latest holography".
The project uses the concept of sustainability, featuring green areas and walking and cycling paths that will improve the quality of life by promoting healthy and active lifestyles and community activities.
In the promotional video, CGI dragons can be seen flying around the floating structures and rocks floating in the atmosphere.
"Dinning with a friendly giant. Explore fantasy worlds, or live on Mars," says the video, blending reality with fantasy.
It looks like a computer-generated restaurant, surrounded by sea water, to fly otherworldly vehicles like a science fiction film.
The project will be located at the junction of King Salman and King Khalid roads to the Northwest of Riyadh, covering an area of ​​19 square kilometers, accommodating hundreds of thousands of residents.
The project will offer more than 25 million square meters of floor space, featuring more than 104,000 residential units, 9,000 hotel rooms and more than 980,000 square meters of retail space, as well as 1.4 million square meters of office space, 620,000 square meters of recreational assets and 1.8 million square meters of space dedicated to community facilities. The project is scheduled for completion in 2030.
The Mukaab's central structure will be large enough to accommodate 20 buildings the size of the legendary Empire State Building.
In the center of this extraordinary dome is a giant column with terraces and waterfalls. While the walls and ceiling are covered with an LCD screen that will be able to create very realistic images of every fantastic location.
The project will add 180 billion riyals ($48 billion or more than Rp733 trillion) to Saudi Arabia's non-oil economic revenue. The project will also create 334,000 direct and indirect jobs. The cost of the gigantic project was not disclosed.
Netizen Response
Some netizens, social media users, have likened Mukaab to the Borg Cube, a type of Star Trek film spaceship.
Mukaab has also been criticized for its resemblance to Saudi Arabia's most important cubical structure, the Kaaba, the Muslim mecca.
"Building a Kaaba-like structure exclusively devoted to capitalism is a bit too difficult," said Intercept reporter Murtaza Hussain.
"It seems the crown prince is building his Kaaba.
Will he establish it as the new Qiblah for the congregation?" academic Asad Abu Khalil tweeted.
This is not the first geometrically challenging grandiose project Saudi Arabia has announced in recent years.
The kingdom has also announced a ski resort with a vertical folded village, a 170 km long straight-line city and an eight-sided city floating on the water.
The luxury resort will be located in Neom, a $600 billion megacity that organizers say is 33 times the size of New York City. (T/RE1)
Sources: Saudi Gazette, Middle East Eye and Mezha Media.
Mi'raj News Agency (MINA)