KOREAN MUSLIM FEDERATION HOPES HALAL LIFESTYLE FAMILIARIZED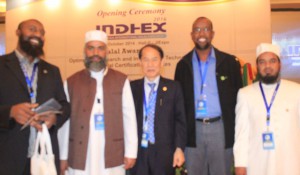 Jakarta, 28 Dhulhijja 1435/22 October 2014 (MINA) –  Various halal and sharia events  among Muslim communities in the world should be familiarized, said Director of the Korean Muslim Federation Hamid Choi.
"I hope events like this could become a habit of our lives and not just once event," Choi told Mi'raj Islamic News Agency (MINA),  commenting on the Indonesia International Halal Expo (INDHEX) held in Jakarta, Wednesday.
He also said despite halal lifestyle activities are still limited in  his country, but Muslims as minority have begun to realize the importance of halal and not a few of them starting to live it by consuming halal foods, lifestyle.
Choi, who had been in Indonesia twice appreciates Muslims in this country that have a lot of  contribution on these issues and other  as general.
"I thank  my brothers and sisters in Indonesia who have been actively contributing in various Islamic issues in Korea," he said.
Choi is one of participants among delegation from 14 countries who attends the 2014 INDHEX. The exhibition  will end until October 25 and presents 150 stands.
The INDHEX Event is a regular program  of Indonesian Islamic Scholar Council (MUI) and intended to raise public awareness about halal goods. The program held various  activities such as halal products exhibition (Expo), an international seminar (Global Halal Forum), symposium, training, and Halal Award.
"The discussion covers a wide range of research topics of halal materials and their utilization," said the head of the organizing committee Nahdya Khairani. (L/R03/R04/P3)
Mi'raj Islamic News Agency (MINA)