ISRAELI NAVY HIJACKS GAZA-BOUND "MARIANNE"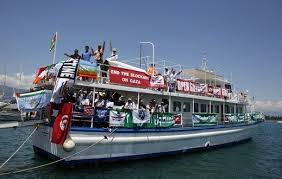 Gaza, 12 Ramad
an 1436/29 Juni 2015 (MINA) – The European campaign to end the siege on Gaza said the Israeli navy at dawn Monday intercepted and seized "Marianne of Gothenburg," one of the Gaza-bound Freedom Flotilla boats.
According to a press release by the European campaign, the Swedish boat Marianne was hijacked and then escorted by Israeli gunboats to the port of Ashdod.
At 02:06AM today (Gaza time) the "Marianne" contacted Freedom Flotilla Coalition (FFC) and informed us that three boats of the Israeli navy had surrounded her in international waters, while sailing approximately 100 NM from Gaza coast.
After that we lost contact with the "Marianne" and at 05:11AM (Gaza time) the IDF announced that they had "visited and searched" Marianne.
They had captured the boat and detained all on board "in international waters" as they admitted themselves.
The campaign expressed its condemnation of the navy's attack on a vessel attempting to break the blockade of the Gaza Strip and described it as an "act of piracy."
It affirmed that the Freedom Flotilla Coalition would continue its efforts to send boats to Gaza until the Israeli blockade imposed on its population ended.
The Marianne was taken over and boarded by Israeli naval soldiers around 100 nautical miles from the shore of Gaza before it was forced to change its direction to Ashdod, according to activists from the Freedom Flotilla campaign.
In a related context, organizers of the third Freedom Flotilla campaign said that three of their boats were able to sail back to the European ports they had come from in accordance with a plan they had prepared earlier.
Freedom Flotilla III, consisting of four boats, the converted fishing trawler "Marianne of Gothenburg" and the supporting sailing vessels "Rachel", "Vittorio" and "Juliano II", carrying 47 people from 17 countries, has been sailing since Saturday morning (Gaza time) to challenge the blockade of 1.8 million Palestinians in the Gaza Strip.
Our primary goal is to break the illegal and inhumane blockade of Gaza and to call on opening the port of Gaza, the port of Palestine to the world.
Three sailing vessels are accompanying the Marianne, her freedom sailors and cargo on her way to Gaza. Their names (Rachel, Vittorio and Juliano II) were given in memory of peace activists Rachel Corrie, Vittorio Arrigoni and Juliano Mer-Khamis, while Juliano II also recalls the Juliano, another boat that was about to leave port but had to stay, due to technical reasons.
It is not yet clear whether this boat has been sabotaged, as happened in 2011, and this suspicious case is still under investigation.
While the Flotilla bears much-needed aid, our main cargo is, as always, human solidarity and non-violent direct action for the respect of human rights.
Since Saturday, the Marianne has been under surveillance by what crew described as military vessels and reconnaissance airplanes, without changing direction or plans. Currently the Marianne is approximately 170 nautical miles from the port of Gaza and could reach its destination within one to two days.(T/R05/R03)
Mi'raj Islamic News Agenc y (MINA)