ISRAEL PREPARES 40 THOUSANDS RESERVED TROOPS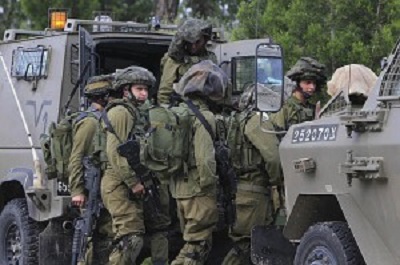 Al-Quds, 11 Ramadan 1435/9 Juli, 2014 (MINA) –  The Head of General Staff of Israeli Occupation Armed Forces, Binyamin Benny Gantz proposed to the government to prepare 40 thousands reserved troops to invade Gaza.
Israel's Prime Minister, Benjamin Netanyahu said, Hamas had to pay for current situation. Local media, Bokra.net on Tuesday night (8/7) reported as quoted by Mi'raj Islamic News Agency (MINA).
"It's time to expand military operations against the Hamas movement," said Netanyahu.
Meanwhile, Senior leader of Hamas Ismail Haniyeh in Gaza stated that they were able to conquer Israeli occupation attack.
"We will not stop fighting until Zionist Israel stop their attacks," Hamas statement released by pls48.net, as quoted by Mi'raj Islamic News Agency (MINA)
Meanwhile, Ismail al-Ashqar, Hamas officials in the Legislative Council said that he believed the Palestinians in the whole world would fully support their struggle against Israeli aggression.
He also strongly condemned the Israeli attacks bombarding residential areas, targeting children and women.
"The invaders have committed war crimes against Palestinian people. It is clearly a violation of crimes against humanity, but UN just mute." Said Al-Ashqar.
He added, it was good moment to unite palestinian struggle by third Intifidah  (L/R1/Syt/P04).
Mi'raj Islmic News Agency (MINA)