ISRAEL ARRESTED 350 PALESTINIANS IN JANUARY 2015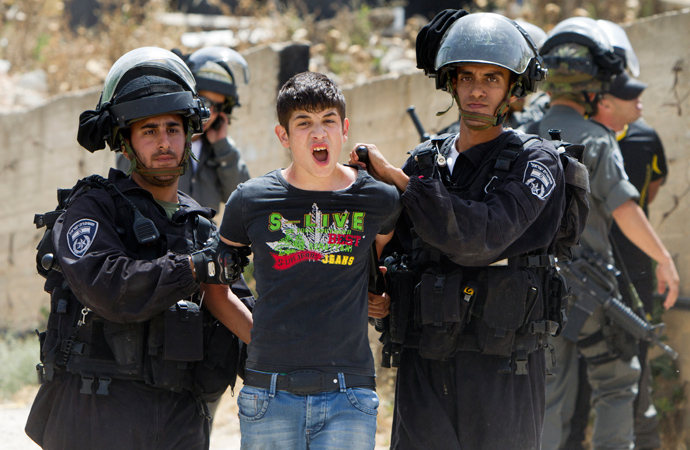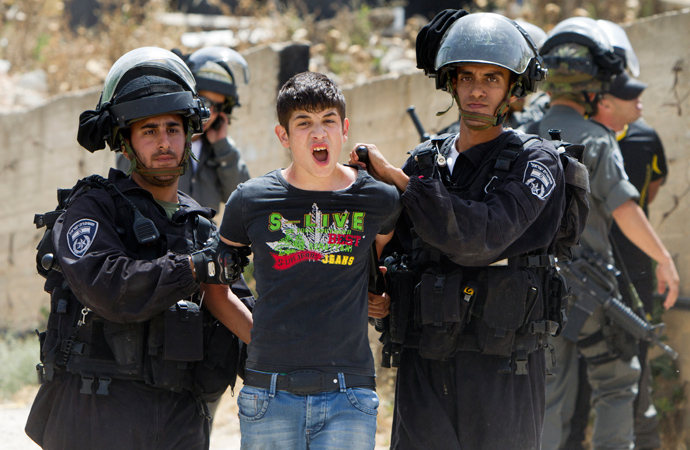 Ramallah, 13 Rabi'ul Akhir 1436/3 February 2015 (MINA) – Israel arrested 350 Palestinians from several cities and towns across the West Bank districts in January 2015, reported the Palestinian prisoner's Club (PPC) Sunday.
The highest number of arrests documented was in Hebron, amounting to 120 arrests, followed by East Jerusalem, where 20 Palestinians were detained, Wafa Palestinian News Agency quoted by Mi'raj Islamic News Agency (MINA) as reporting.
The Hebron arrests included 25 minors and eight students, in addition to 16 residents suffering from various health problems and two females aged 22 and 26.  Around 37 residents were placed under administrative detention.
Meanwhile, 42 Palestinians were arrested from Ramallah and al-Bireh, 38 from Jenin, 35 from Nablus, 19 from Bethlehem, as well as 19 others from Qalqilia. Eight Palestinians were arrested from Tulkarem, six from Tubas, and three others from Salfit.
PPC reported that the number of children detained in Israeli jails reached 214, including four females; among whom is 14-year-old Malak al-Khatib, the youngest Palestinian child in Israeli jails. She was sentenced to two months in jail and a fine of 6000 NIS ($1,523).
Illegal Detention
PPC said that the number of prisoners who received administrative detention orders in January reached 109, 12 of whom are currently boycotting the Israeli military courts, in protest of their illegal detention without charge or trial.
The administrative detention of many prisoners was renewed for several times, including some who have been under administrative detention for years now.
The 12 prisoners were identified as Abd al-Rahman Hindyeh, Murad Shaqiqat, Abdallah Omla, Ammar Ilyan, Ahmad Ra'e, Amir Yaish, Ahmad Ghnaim, Badr Rzeh, Mahmoud Fayyid, Abdallah Shaba'an, Ali Ikmil, and Omar Talahmeh.
Administrative detention is a procedure that allows the Israeli military to hold prisoners indefinitely on secret information without charging them or allowing them to stand trial.
Meanwhile, Israeli military courts have renewed the detention orders of around 212 prisoners, for different periods of time, under the pretext of completing investigations and judicial proceedings.
Medical Negligence
PPC further reported on the harsh health condition of prisoners detained in Israeli jails due to the prisons administrations' deliberate medical negligence.
Meanwhile, the Detainees and Ex-detainees Affairs committee, in a report Sunday, said that the prison administration in al-Naqab Israeli prison continues with its deliberate systematic policy of medical negligence, stressing that there are dozens of prisoners suffering from difficult health issues and chronic diseases.
The committee said the stark and harsh situation of sick Palestinian prisoners, whose health conditions are gravely deteriorating due to Israeli administrations' illegal policy of denying them the needed treatment, stands in clear contradiction with all international laws and norms.
More than 6,500 Palestinian political prisoners are currently held in Israeli jails, of whom dozens serve multiple life sentences. About 1,500 prisoners are believed to have health problems due to medical negligence.
In December 2014, Israel detained 383 Palestinians, according to the NGO which advocates for Palestinians in Israeli custody.
Israeli authorities could not be reached for an immediate comment.(T/R05/R03)
Mi'raj Islamic News Agency (MINA)