After Visiting the Archaeological City of Sebastia, EU Representative: Palestinians Have the Right to Live There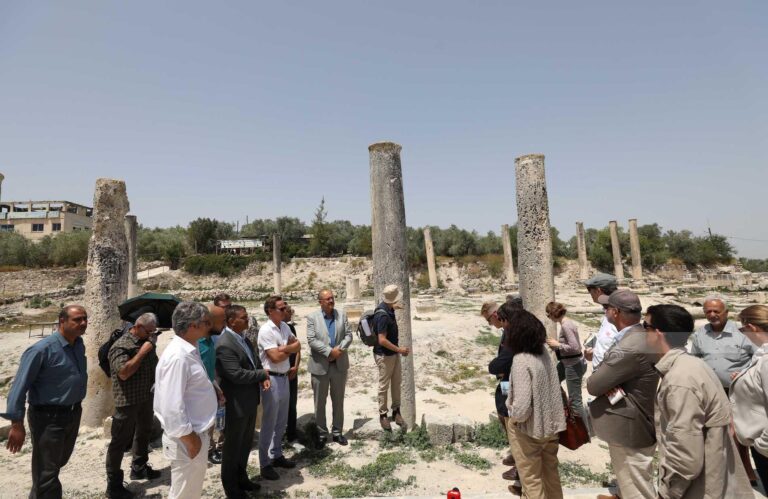 European Union representatives visit the city of Sebastia in the West Bank (Photo: WAFA)
Ramallah, MINA – A European delegation consisting of 20 diplomats and peace activists on Wednesday visited the city of Sebastia in the West Bank of northern Palestine and ancient archaeological sites where they heard from Mayor Mohammad Azem the problems faced, especially its archaeological sites from the occupation Israel.
The European Union Representative for Palestine, Sven Kuhn von Burgsdorff, said the city of Sebastia is the whole of occupied Palestinian land and Palestinians have the right to live there. WAFA reports.
He said he had previously visited this archaeological site many years ago but now the situation has become worse due to Israel's actions. He emphasized that Europe supports Palestine in their efforts to preserve this cultural heritage.
Burgsdorff said whatever his actions, the Palestinians have the right to remain on this land.
Sebastia, he said, is Palestinian land and Israel, according to international law, is obliged not to take any action that is against the law, noting that every Israeli action and plan therein violates international law.
Azem stressed the violations by the Israeli occupation forces and settlers aim to Judaize and seize the archaeological area and the barbaric attacks every day will increase the suffering of the townspeople.
He listed four settler attacks on Tuesday that hit residents, including confiscating tools and burning crops. Azem called for international protection and opposed the occupation's plans to seize the archaeological site and alter its features in violation of international law.
The delegation also visited the neighboring village of Burqa, where they heard about repeated attacks by settlers on residents from nearby settlement outposts, including the Homesh outpost.
Burgsdorf said what happened at Burqa was unacceptable.
"We are here to see what happened, and we demand action to confront the injustices that are happening on the pitch. It is important to document what happened and get the message across to the world and European capitals," he said.
He explained that legitimizing the return of settlers to evacuated settlements is contrary to the decision of the Israeli Supreme Court itself, as well as international law and settlement activity in all its forms is also a violation of international law.
Burgsdorff called on Israel to stop such acts, decisions and violence and prevent settler attacks, which are unacceptable and that Israel, as an occupying power, must protect Palestinians from such acts. (T/RE1)
Mi'raj News Agency (MINA)