Trump Holds First Iftar Dinner of Presidency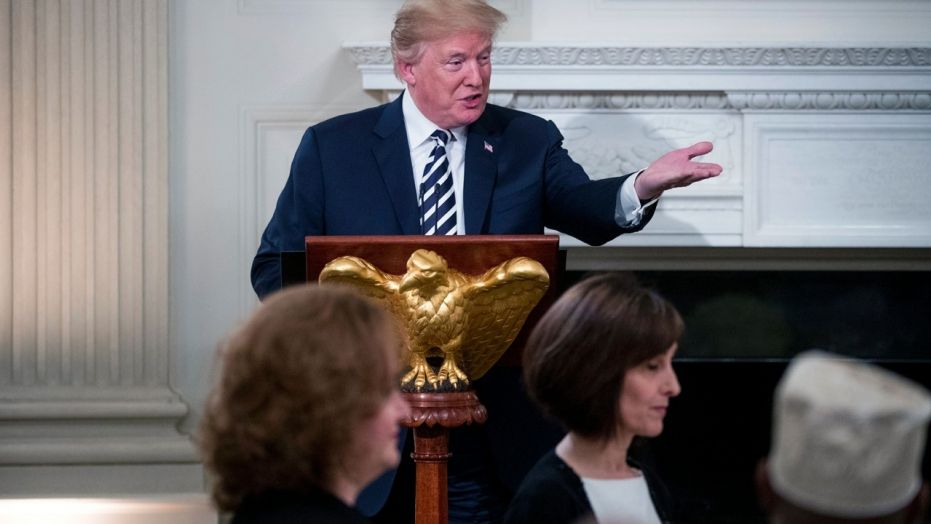 Washington, MINA — Donald Trump on Wednesday hosted his first iftar dinner as president to mark the holy month of Ramadan amid tense relations with the American Muslim community.
During the dinner, to which mostly ambassadors and diplomats from predominantly Muslim countries were invited, Trump praised the virtues of Ramadan and called for cooperation in the Middle East.
"Tonight as we enjoy a magnificent dinner at the White House, let us strive to embody the grace and goodwill that mark the Ramadan season," the U.S. president told attendees, referring to the dinner as "a sacred tradition of one of the world's great religions".
"Let us pray for peace and justice and let us resolve that these values will guide us as we work together to build a bright and prosperous future that does honor and glory to God," he said.
According to a pool report from the White House, attendees included Vice President Mike Pence, Trump's son-in-law Jared Kushner and a few other Cabinet members, as well as ambassadors from Saudi Arabia, the United Arab Emirates, Tunisia, Kuwait, Indonesia, Jordan, as well as representatives from Turkey and other Muslim-majority countries.
Counter-event across from the White House
However, some of the nation's largest Muslim organizations said they had not been invited to the dinner, thus holding a counter-event across from the White House, at Lafayette Square.
Prominent American Muslim leaders who attended iftar dinners under previous administrations said they would have turned down the invitation even if they had been invited, citing Trump's continued targeting of Islam and his history of incendiary comments about Muslims as reasons.
"One thing we are glad [of is] that President Trump has ultimately discovered that there is a Ramadan. There used to be an iftar dinner in the White House which took him nearly 17 months to discover that. That is a good sign," Zahid Bukhari director of the Islamic Circle of North America (ICNA) told Anadolu Agency.
"We realized that he did not invite us. As American Muslims, we thought that it would be good to have a Muslim representative [for] iftar in front of the White House to achieve its objective while his iftar with foreign Muslim diplomats is on right now. That is why we are here."
"When we look at what the White House has been doing with the Muslim ban and now hosting an Iftar dinner is just a contradiction," Reuben Eckels of the Church World Service, who describes himself as an interfaith advocacy minister, told Anadolu Agency.
"We are here to support our Muslim brothers and sisters and those who are refugees and immigrants who came from all over the world to this nation who were supposed to be welcomed here," he added.
U.S. presidents have hosted Iftar dinners for foreign diplomats, Cabinet officials and Muslim leaders from civil society organizations in honor of the Islamic holy month of Ramadan at the White House.
However, the Trump administration last year broke the decades of precedent by forgoing the annual Iftar dinner — a bipartisan tradition that formally began with Bill Clinton — but surprisingly announced that there would be one for Wednesday.
Along with representatives of the nation's largest Muslim organizations such as the Council on American-Islamic Relations (CAIR) and ICNA, roughly 150 American Muslims also participated in the event to break fast in front of the White House.  (T/RS5/RS1)
Mi'raj Islamic News Agency (MINA)