NETANYAHU ORDERS REMOVAL OF WOODEN RAMP AT AQSA MOSQUE'S WESTERN WALL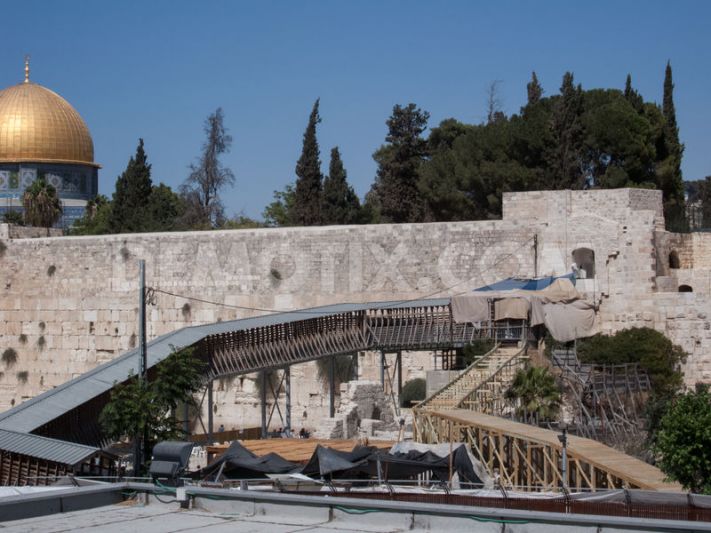 Al Quds, 9 Dhulqo'dah 1435/4 September 2014 (MINA) –Israeli occupation premier Benjamin Netanyahu reportedly issued orders to dismantle the new wooden bridge at the western wall of the Aqsa Mosque, according to Haaretz newspaper.
The order came after the royal palace in Jordan voiced anger over the building of this bridge without prior coordination with it, Palestine Information Center quoted by Mi'raj Islamic News Agency (MINA) as reporting.
A senior Israeli government official told the newspaper that the wooden ramp was created by local officials who lacked authority and did not notify or ask Israel's government for a permission.
The official noted that when Netanyahu knew about the ramp from Jordan, he gave orders to get clarifications about the matter from the Jerusalem municipal council and the western wall plaza management.
The Jordanians conveyed their message through several diplomatic channels, including the foreign ministry, fearing that the project could affect Jordan's stability, the official said.
In another incident, the Aqsa foundation for endowment and heritage accused the Israeli occupation authority (IOA) and its executive wings, especially the antiquities authority and Elad society, of Judaizing the historical Arab water channels and springs in Silwan district, south of the Aqsa Mosque.
In a report released on Wednesday, the foundation said these channels and springs date back to the ancient Arab eras of the Jebusite and Canaanite tribes.
The foundation noted that the IOA has been embarking since 1978 on turning these historical sites into Talmudic water areas and creating false Hebrew claims about them.
It affirmed that the IOA intensified lately its diggings and construction activities in these ancient water areas and opened a museum underground.
The IOA also changed the names of the Arab water channels and springs into Hebrew ones and produced documentary movies talking about alleged Jewish history in the area, according to the Palestinian foundation, which said that these changes and movies are used to brainwash the visiting tourists into believing the Jewish historical fabrications and myths, especially with regard to the alleged temple mount.(T/R04/R03)
Mi'raj Islamic News Agency (MINA)