KILL GAZANS ARMED OR UNARMED : ISRAELI CHIEF TOLD SOLDIERS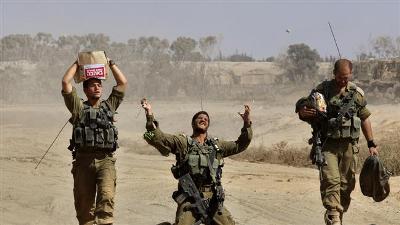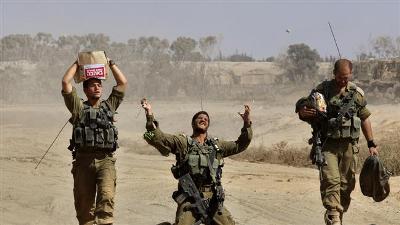 Gaza, 16 Rajab 1436/5 May 2015 (MINA) – Israeli soldiers have testified that they were ordered to "kill any person" they saw in the latest Israeli aggression against the besieged Gaza Strip.
The testimonies by as many as 60 Israeli soldiers have been collected and released in a 237-page report entitled "This is how we fought in Gaza" by the Israeli NGO Breaking the Silence.
"The instructions were to shoot right away. Whoever you spot be they armed or unarmed, no matter what. The instructions are very clear. Any person you run into, that you see with your eyes shoot to kill," the NGO quoted an Israeli soldier as saying in the report, Press Tv quoted by Mi'raj Islamic News Agency (MINA) as reporting.
A testimony by another Israeli soldier disclosed that Israeli forces shot and killed two Palestinian women talking on the phone around one kilometer away from the war zone. A subsequent probe showed that the women were unarmed, the soldier said, adding, "We moved on, and they were listed as terrorists."
Another Israeli soldier said that the soldiers involved in the onslaught on the Gaza Strip had been instructed to "open fire everywhere, first thing as you go in. the assumption being that the moment we went in, anyone who dared poke his head out was a terrorist".
An account by another Israeli soldier revealed that Israeli tanks had also been ordered to select at random and target buildings.
In excess of 100 examples of misconduct by Israeli soldiers during the summer onslaught have been documented in the report.
"The guiding military principle of 'minimum risk to our forces, even at the cost of harming innocent civilians' alongside efforts to deter and intimidate the Palestinians, led to massive and unprecedented harm to the population and the civilian infrastructure in the Gaza Strip," the NGO said.
An Israeli report in March said that more than 350 Israeli soldiers who took part in the deadly Israeli war had received treatment for symptoms related to post-traumatic stress, including disorientation, low productivity, and recurring nightmares.
At least 10 Israeli soldiers were also reported to have committed suicide last year, including four who had taken part in the latest Gaza war.
Israel started its airstrikes against the Palestinian territory in early July 2014 and later expanded its military campaign with a ground invasion. The war ended in late August that year.
Nearly 2,200 Palestinians, including 577 children, were killed in Israel's 50-day onslaught and over 11,100 others, including nearly 3,380 children, 2,088 women and 410 elderly people, were injured. Scores of Israelis were also killed during the war. Moreover, the UN said up to 1,500 children were orphaned in the Israeli war.
Last September, Palestinian experts said it costs more than USD 7.5 billion to rebuild the besieged Gaza Strip and that the process would take "five years if Israel removed its blockade on Gaza entirely."
Experts estimated the direct losses caused by the Israeli onslaught at USD 4.4 billion. They also believe that a total sum of USD 3.02 billion is needed for the development of the enclave, which has been under a blockade since June 2007. (T/P002/R03)
Mi'raj Islamic News Agency (MINA)