Karm Abu Salem Crossing with Gaza Reopened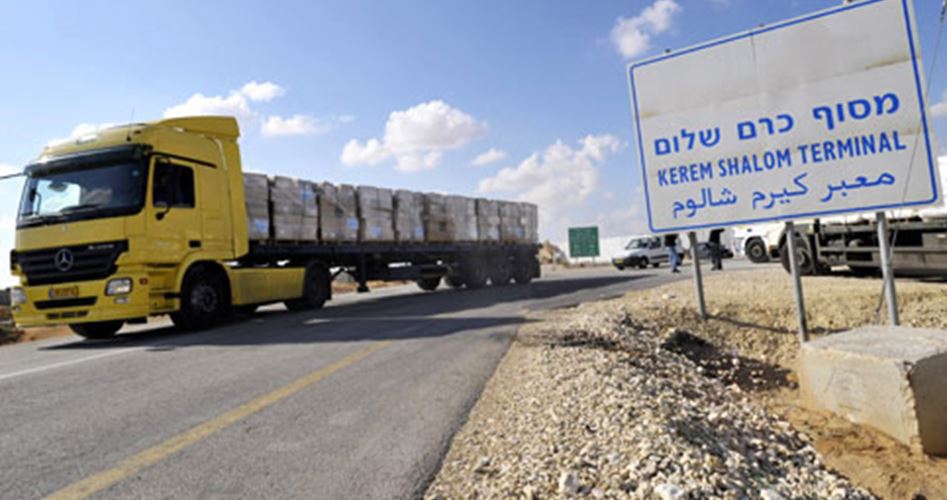 Gaza, MNA — The Israeli authorities reopened on Wednesday Karm Abu Salem/Kerem Shalom commercial crossing with Gaza to allow fuel, construction material, food and other goods into the besieged Gaza Strip, according to Raed Fattouh, head of the official committee responsible for following up on the entry and exit of good into and from Gaza.
He told WAFA that movement of trucks and goods inside the crossing was normal on since the morning and the situation was back to the way it was before Israel had closed it on July 9.
Israel has also extended the fishing area for the southern areas of the Gaza shore to nine nautical miles after it had also reduced it to three following weeks of tension between the Palestinian factions in Gaza and the Israeli military.
However, reports from Gaza said on Wednesday that the Israeli navy opened fire at fishermen boats in the northern Gaza shores and forced them to return to coast without any reports of injuries. Israel still fishing in the northern shore to only six nautical miles, which fishermen say is not enough to catch fish.
Israel closed the crossing to pressure the de facto authority in Gaza, Hamas, to put a stop to the firing of incendiary balloons into Israel and the Great Return March border protests.
United Nations officials have strongly warned of catastrophic humanitarian conditions if Israel continues with the blockade on Gaza it has imposed 12 years ago and the closure of the commercial and other crossings with Gaza  (T//RS5/RS1)
Mi'raj Islamic News Agency (MINA)