ZIONIST REGIME FORCES USE PALESTINIAN CIVILIANS AS HUMAN SHIELDS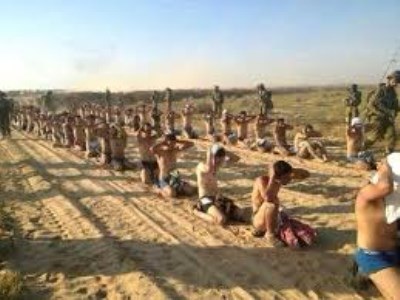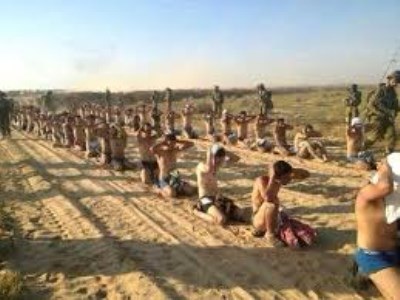 Geneva, 16 Shawwal 1435/12 August 2014 (MINA) – The Israeli occupation regime military uses Palestinian civilians as human shields, a new report from the Euro-Mid Observer for Human Rights soon will reveal.
An investigative team from the non-governmental organization, based in both Geneva and the Gaza Strip, has obtained first-person testimony from several families in various locations describing their capture and use as "shields" for Israeli occupation regime soldiers for hours at a time.
"The Israeli occupation regime government has tried to defend its indiscriminate killing of civilians – including more than 400 children – by claiming that resistance fighters hide among the people, when actually there is no place in Gaza that is safe from the bombs and shelling," says Ramy Abdu, chair of the Euro-Mid Observer in a Press Release quoted by Mi'raj Islamic News Agency (MINA).
"Instead, what we have documented is that Israeli forces have literally used Palestinian civilians as shields as they killed their neighbors."
One of these victims, Ramadan Muhammad Qadeeh, who lives in the town of Khuza'a in the southern Gaza Strip, recounted his family's harrowing ordeal in a video interview recorded by Media Town and released by Euro-Mid Aug. 9.
An Israeli occupation regime assault leveled much of Khuza'a, leaving whole streets flattened and once-grand mosque domes reduced to ground level. One man recalled counting 360 shell attacks in a single hour. Most of the town's 14,000 inhabitants fled.
On July 25, says Qadeeh, he was sitting in his home with his extended family of 27, including 19 women and children. At 1 p.m., Israeli occupation regime forces stormed into the house. His 65-year-old father, Muhammad Qadeeh, who holds a Spanish travel document, tried to tell the soldiers that that they are civilians, repeating it once in Hebrew and then in Arabic.
When he took a step toward the soldiers, one of them fired two bullets directly into his heart from a distance of just one meter. He died immediately, in front of his family.
"Then they ordered us to take off our clothes and tied our hands up. They took us to one of the rooms and used us as shields, making us stand at the windows as if we were looking outside," Qadeeh says.
"I was at one window and three children from my family at another. The soldiers then began firing around us."
The family members were moved to different rooms and windows, with bullets flying around them, for more than eight hours without food or drink. "It was terrifying, I don't know how we survived," he says.
In another incident, on July 23, 17-year-old Ahmad Jamal Abu Reeda, says he was restrained by Israeli occupation regime troops who threatened to kill him. After harshly interrogating and beating him, the troops ordered Abu Reeda to walk ahead of them at gun point, accompanied by police dogs, as they searched houses and other buildings. Several times, they demanded that he dig in places they suspected tunnels to exist.
Abu Reeda was forced to remain with the Israeli occupation regime forces for five days.
Euro-Mid Monitor notes that the Israeli practice of using Palestinians as human shields is not new. It previously documented an incident in which Israeli occupation regime military forces stormed a home in the village of Silwad, near Ramallah in the West Bank, and used it as a watchtower for snipers.
he home's residents – two elderly Palestinians with American citizenship – were herded into and kept in one of the rooms after their phones were confiscated.
"International humanitarian law prohibits the use of civilians as human shields," says Abdu.
"Fighting forces must make every effort to protect civilians who are not involved in killing and make sure they are kept away from danger. Israel occupation regime must be held to account by the organizations charged with upholding international law." (T/P02/E01)
Mi'raj Islamic News Agency (MINA)