BAN KI-MOON MAY VISIT NORTH KOREA THIS WEEK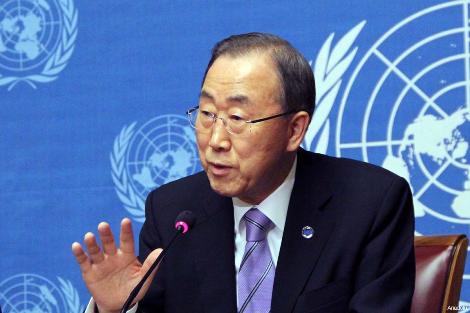 Seoul, 4 Shafar 1437/1 Novembr 2015 (MINA) – U.N. Secretary-General Ban Ki-moon will visit North Korea this week, Yonhap News Agency reported Monday, citing an unnamed source at the United Nations.
Both Ban's office in New York and Pyongyang have neither confirmed nor denied the report, but some diplomatic sources said
that he has long been seeking to visit the reclusive country to make a breakthrough in stalled talks on denuclearizing the North and offer help for it open up to the outside world. Cheong Wa Dae also refused to comment on the report.
Ban's visit, if realized, is expected to provide fresh momentum to the stalled multilateral talks as well as facilitate dialogue between the two Koreas.
There is a strong possibility that Ban could meet North Korean leader Kim Jong-un during his visit, Yonhap said. But it did not provide further details, Mi'raj Islamic News Agency (MINA) quoting Yonhap reported.
"There can't be a situation where the U.N. secretary-general visits North Korea and does not meet with the top leader of a U.N. member state," it quoted the source as saying.
Cheong Wa Dae said it has no related information about the possible visit.
The trip to North Korea would be Ban's first in his capacity as U.N. chief since taking office in early 2007, and the first undertaken by a U.N. chief in two decades.
His scheduled visit to the Gaeseong Industrial Complex in the North's border city was cancelled in May after Pyongyang withdrew its invitation one day before he was due to cross the border without a clear explanation.
If the trip proceeds, Ban will become the third U.N. secretary-general to visit the repressive state, following former U.N. chiefs Kurt Waldheim in 1979 and Boutros Boutros-Ghali in 1993.
Since his appointment, Ban has repeatedly expressed a will to resolve the security issues on the peninsula through talks with Pyongyang.
"Bringing peace to the Korean Peninsula is one of the most important tasks for me as a U.N. chief," he told reporters in May. "Having talks are the only solution."
Ban is expected to call on Kim to seek a peaceful resolution for its nuclear program and to promote a reconciliatory mood on the Korean Peninsula, according to analysts.
His visit could provide momentum for strained inter-Korean relations, they said.
Since the August 25 agreement that defused military tension on the inter-Korean border, Pyongyang has not responded to Seoul's request to hold preliminary meetings for high-level talks.
"Ban's visit could help push forward stalled bilateral talks," said Kim Yong-hyun, a professor at Dongguk University. "It could also have a positive impact on a potential inter-Korean summit."
Signs in the North
Whether Ban was invited or he asked to visit is unclear. Either way, Pyongyang's move is seen as North Korea expanding its diplomatic sphere and seeking a diplomatic achievement ahead of the next year's Congress of the Worker's Party, Kim said.
Chang Yong-seok, a senior analyst at Seoul National University's Institute for Peace and Unification agreed, noting there have been signs in the North of it reaching out to the international community.
"Since the 70th anniversary of the founding of Workers' Party, Pyongyang proposed to sign a peace treaty with the U.S. and worked on improving relations with China," he said. "Allowing Ban's visit is an extended move within such diplomatic efforts."
Kim is also expected to urge the U.N. to change its stance toward North Korea, Chang said.
The secretive country has been placed under heavy U.N. sanctions after its three nuclear tests in 2006, 2009 and 2013.
Analysts have said that Pyongyang is also seeking a breakthrough on the U.N. stage before it takes further action against North Korea's human rights violations.
"The North is attempting to promote its image through Ban's visit," said Yang Moo-jin, a professor at the University of North Korean Studies. (T/R07/R01)
Mi'raj Islamic News Agency (MINA)