80 SETTLERS STORMS AL-AQSA MOSQUE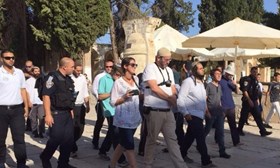 Al Quds, 3 Dhulqo'dah 1436/18August 2015 (MINA) –  Dozens of Jewish settlers stormed al-Aqsa Mosque under the protection of Israeli police on Sunday.
Palestinian worshipers at the Mosque revealed that a group of settlers called Trustees for the Temple broke into the plazas of the holy Al-Aqsa Mosque on Sunday morning.
The settlers attempted to climb the Dome of the Rock, but the worshipers along with Jerusalemite children stopped them. The settlers took photos of the holy site as well.
Israeli forces erected, in the morning, a military barrier at the entrance of al-Issawiyah town to the northwest of Occupied Jerusalem, The  Palestinian Information  Center (PIC) quoted by Mi'raj Islamic News Agency (MINA)as reporting.
The Director of Al-Aqsa Mosque, Omar al-Kaswani, told, the Anadolu News Agency that about 80 settlers stormed the Muslims' holy site under the protection of dozens of Israeli policemen. The worshipers confronted settlers with chants of "Allah the Greatest", he added.
Limited confrontations erupted in the wake of bushing Palestinian worshipers by Israeli policemen, he pointed out.
The worshipers include Palestinians who have been camping in the vicinity of al-Aqsa Mosque for the sake of defending it from settlers' repeated incursions.
Al-Aqsa holy site is almost daily being stormed by Jewish settlers, claiming that the Mosque was established over the ruins of the alleged Temple of Solomon. (T/Imt/R03)
 Mi'raj Islamic News Agency (MINA)