Hala Al-Qadi, The First Palestinian Female Athlete to Win Asian Games Medal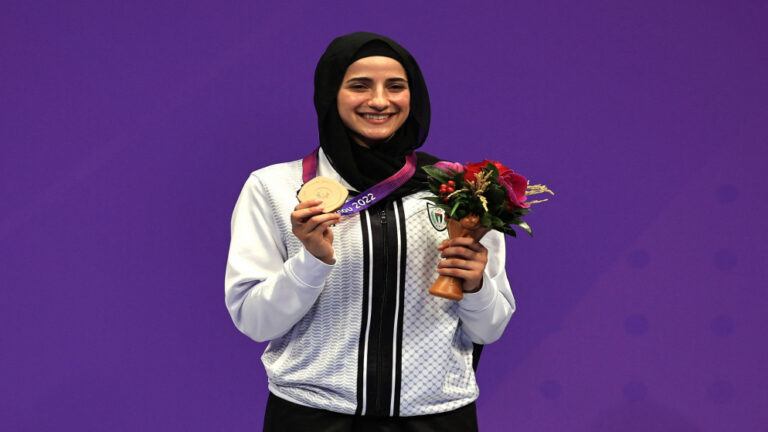 Hala Al-Qadhi (Qanah al-Mamlakah)
Hangzhou, MINA – Hala Al-Qadi (22 years old) became the first female athlete to win a medal for her country at the 19th Asian Games in Hangzhou, China.
Hala, a Palestinian karate athlete, defeated her opponent, Gao Shao of Taiwan, in the under 68 kg kumite category karate match on Thursday to win the first bronze medal at the Hangzhou Asian Games, according to the Palestinian Olympic Committee.
"This is a historic record, Hala Al-Qadi won the bronze medal in the kumite competition under 68 kg after defeating Gao Shao from Taiwan by a margin of 6 points to 3," commented the Committee.
The committee continued, "The heroine, Hala Al-Qadhi, gave Palestine its first medal at the Asian Games."
The Palestinian Olympic Committee published on its pages photos of Hala Al-Qadi, the player celebrating the victory over her rival.
Technical Director of the Palestinian Olympic Committee, Nader Al-Jayousi, told Xinhua by telephone that what his player Al-Qadi achieved was "an extraordinary achievement for Palestinian sport, and it is well deserved."
Al-Jayousi expressed his "happiness and pride" over his athletes' achievements at the Asian Games level.
The Happiness of Hala Al-Qadi
Hala Al-Qadi, the Palestinian athlete expressed her great happiness at winning the first bronze medal of the tournament, and stated that she dedicated this achievement to the Palestinian people, her family members and the Palestinian Olympic Committee.
"This is the result of months of hard work, effort and preparation, as well as several competitions that I participated in abroad," she said, expressing her gratitude.
She added that the tournament held in China was one of the most beautiful tournaments in terms of organization, arrangement, interaction and atmosphere.
The female athlete from Palestine emphasized that she will continue her career in karate and reach international level, especially at the closest World Championships later this month in Hungary.
Al-Qadi (22 years old) comes from the city of Deir Istiya, northwest of the city of Salfit in the Israeli-occupied West Bank.
She was one of 64 Palestinian athletes who participated in 16 individual and team events which was the largest participation in the history of Palestinian participation in international competitions.
The victory was greeted with extraordinary happiness by her family members at home.
Hala Al-Qadi's mother, who received the news of her daughter's victory while she was at work, said her feelings of joy were indescribable.
Her mother also received congratulations from relatives and co-workers.
"Hala has been training hard every day and studying techniques, and in the end she achieved what she dreamed of."
The mother of four children, two boys and two girls, all karate athletes, added, "her children have loved sports since they were little."
She also continues to encourage her children to participate in representing Palestine in Arab and international forums.
Her father also wrote on his social network, "Thank God, God of the Universe. My daughter, come to the podium and raise the Palestinian flag high. Go forward, my daughter and my hero, and prove that we are a nation of lifelong and victorious warriors."
Bahjat Tantish from Palestine also wrote to congratulate him, "Congratulations on this great achievement which confirms that the Palestinian karate performance index continues to increase. Congratulations to Hala and Palestine on this medal that is so dear to us."
Throughout the history of its participation in the Asian Games, Palestine has one medal, a bronze won by Munir Abu Kishk in boxing when it took place in South Korea in 2002.
The Chinese city of Hangzhou is hosting the 19th Asian Games from September 23 to October 8, 2023. (T/RE1/P2)
Mi'raj News Agency (MINA)