Indonesian Popular Scholar Deported from Hong Kong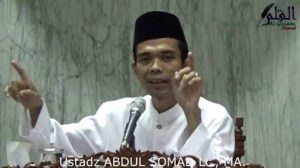 Jakarta, MINA – One of Indonesian popular scholar Abdul Somad  was rejected for unknown reason to enter Hong Kong during his arrival at the international airport of Hong Kong, Saturday.
In his Facebook fanpage, the Moroccan-graduated ulema posted the chronological story when he arrived in Hong Kong and was seemed suspected of being linked to terrorism.
As soon as he exited the door of the plane, a number of officers without uniforms spoke to him.
"I arrived in Hong Kong at 3 pm (my watch has not changed from Indonesian time)," he said.
Abdul Somad along with two others men with him, admitted after getting off the plane the men approached and took them in places where they interogated them separately.
He continued, the men asked him to open his wallet and check all inside of it.
"I suspect there they are misunderstood with terrorism issue as they see  a star logo with Arabic script (card member of Rabithah)," he added.
For 30 minutes, they questioned Abdul Somad and even to his relation with mass organizations and politics.
Afterwards, they escorted Abdul Somad along with two others back to the same plane for departure one hour later. There is no explanation about that incident.
Responding to that, Indonesian citizens condemn the act, calling it as discriminatory and unilateral policy toward the scholar. (T/R04/RE1)
Mi'raj News Agency (MINA)