Hamas Announces Seven-Point Reconciliation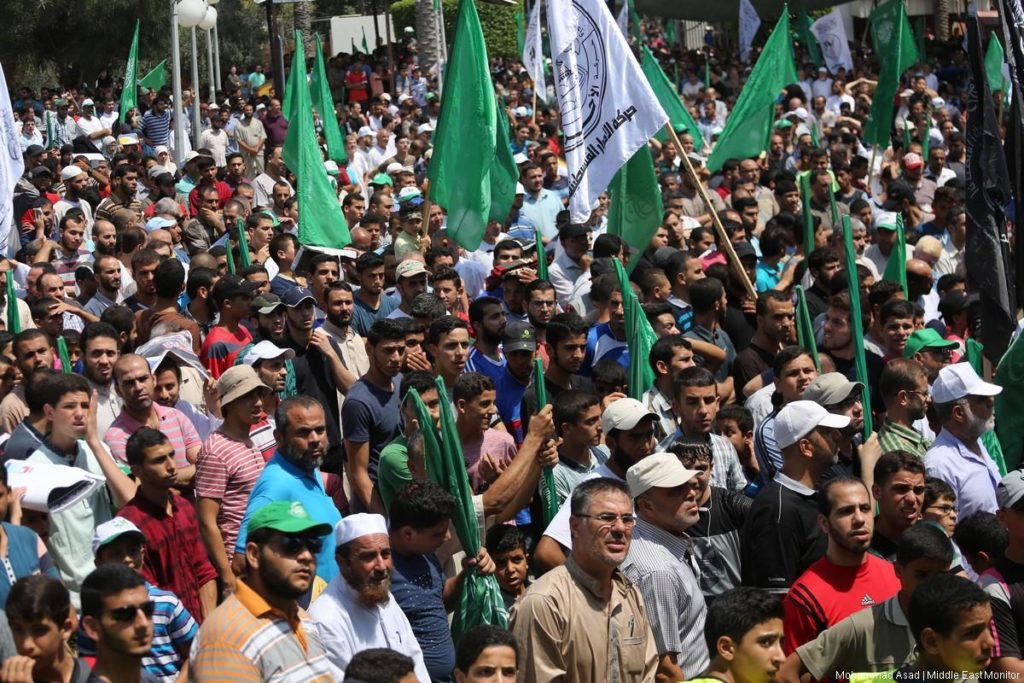 Gaza, MINA – On Thursday, the Islamic Resistance Movement (Hamas) announced a seven-point reconciliation initiative with the Palestinian Authority and President Mahmoud Abbas in exchange for the cancellation of recent Palestinian government measures that including the dismissal of thousands of Gaza employees and the cancellation of the Hamas-appointed committee to run the sector.
In a statement, Salah Al-Bardawil, a member in Hamas Political Bureau, said that "Hamas is heading towards the Palestinian reconciliation on clear, sound and deep bases." He also called for "an immediate cancellation of all the measures that are imposed on Gaza under the pretext of forming the government administrative committee."
He also announced the readiness of "Hamas to end the urgent mission of the government committee as soon as the Palestinian Unity Government assumes all its responsibilities in the Gaza Strip," MEMO reported.
In early July, the Palestinian Authority, headed by Rami Hamdallah, dismissed more than 6,000 of its employees in the Gaza Strip and had already stopped paying the electricity bills for the Gazan supply that is secured from the Israeli power grid (this pushed the Israel to cut electricity supplies). In April, the government also announced the reduction of its employees' salaries in the Gaza Strip.
The measures came in the context of Hamas's formation of a seven-member "administrative committee" for the Gaza Strip.
Al-Bardawil stressed the need for "the immediate commencement of national dialogue and discussions to form a government of national unity and for the activation of the Palestinian Legislative Council to start performing its tasks."
The Hamas initiative also included "preparing for legislative and presidential elections and national council elections, as well as holding an immediate meeting of the interim leadership staff of the liberation organization to make national decisions that are binding for all."
Last Tuesday, Abbas met a delegation of Hamas, headed by Nasser Al-Din Al-Shaer, at the presidential headquarters in the city of Ramallah.
The official Palestinian News Agency (WAFA) said that during the meeting, there has been a "presentation of the general situations and of the ways to strengthen national unity, end the division and restore the cohesion to the Palestinian land and people."
The Palestinian Legislative Council has not held a meeting since 2007, the year in which Hamas took full control of the Gaza Strip and expelled Fatah from it.
In addition, no presidential elections have been held since 2005, and Abbas remained in power despite the end of his presidency.
The boycott came after Hamas won the 2006 legislative elections. However, the international community refused to accept Hamas government and demanded that the movement has first to renounce violence, accept the Israeli state and respect agreements between Palestinians and Israeli leaders. This has developed to a full control of Hamas over the Gaza Strip after a bloody confrontation with pro-Abbas forces.
On April 2014, Fatah movement, headed by Palestinian President Mahmoud Abbas, and Hamas signed a national reconciliation agreement, followed by the formation of the Palestinian Unity Government. However, Hamas and Fatah movements have failed to settle their disputes, and Hamas did not join the government.(T/R04/RS5)
Mi'raj Islamic News Agency (MINA)