GAZANS SUFFERING FROM SEVERE ELECTRICITY SHORTAGE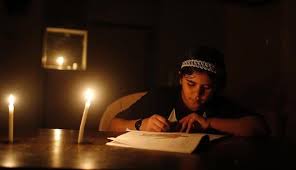 Gaza, 8 Rabiul Awwal 1436/30 December 2014 (MINA) – Palestinians in the Gaza Strip live in dire conditions as they have to struggle with lengthy and annoying power cuts since the latest Israeli war on the besieged territory.
The situation in the coastal enclave has not improved since Israel's 50-day offensive this summer while power cuts are a major daily concern for the people in Gaza.
The territory has one diesel-powered plant that on its best days before the Israeli aggression provided a quarter of what Gaza's 1.8 million residents consume. The Israeli regime targeted it several times during the war and it is not yet fully operational, Press Tv quoted by Mi'raj Islamic News Agency (MINA) as reporting.
Gaza's population currently has electricity at homes, schools and hospitals for only six hours per day and in some areas power cuts last longer.
"Everyone here is suffering due to power outages. All aspects of life are affected in a very negative way. It is not a normal life when you have six hours of electricity and sometimes we don't even get six hours. It is winter time and daylight is short and now we have to deal with long hours of power cuts," a Gaza resident told Press TV.
The extensive cuts have disrupted the normal lives of the Gazans and negatively affected the provision of basic services in the Gaza Strip, including water supplies and sewage treatment.
"Eight hours of electricity were not enough and now we have to deal with longer electricity cuts. Our children can't study for their exams at night and we can't run our business without electricity. We are basically living a miserable life and no one cares about our suffering," said another Gazan.
The Gaza power generating company responsible for running the power plant is facing major obstacles as it is in need for spare parts to replace the damaged ones. Moreover, the Israeli siege on Gaza keeps fuel away from the plant.
Gaza has been blockaded since 2007, which is a situation that has caused a decline in the standard of living, unprecedented levels of unemployment, and unrelenting poverty.(T/P011/R03)
Mi'raj Islamic News Agency (MINA)