UIN Jakarta and HPWL Sign MoU on Peace Academy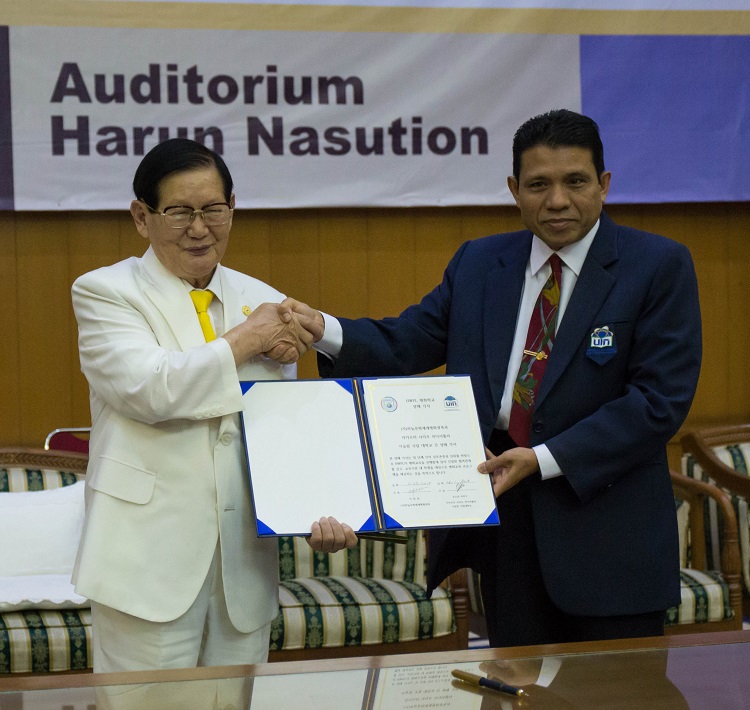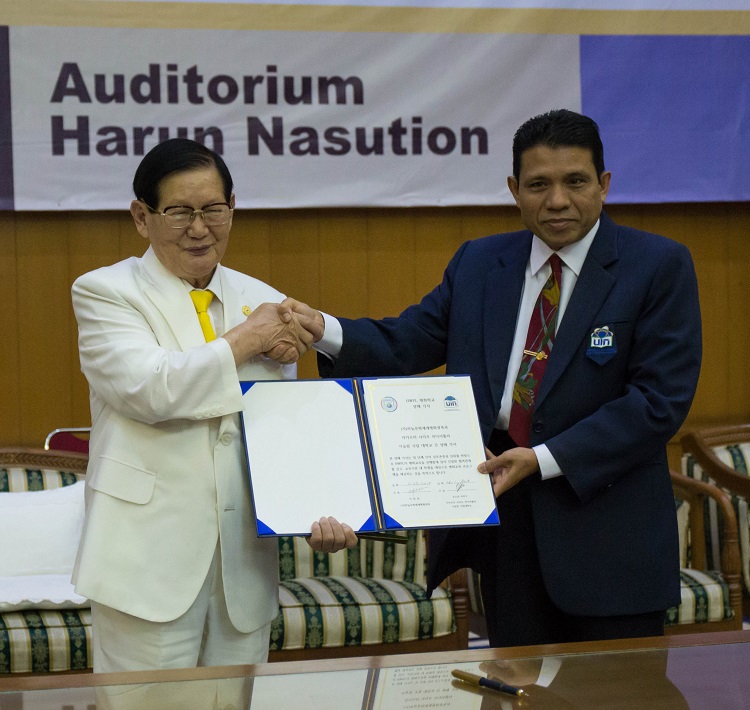 Jakarta, MINA – The Syarif Hidayatullah State Islamic University Jakarta (UIN Jakarta) and Heavenly Culture, World Peace, Restoration of Light (HWPL) have agreed to cooperate to provide education on world peace.
The signing ceremony for the planned cooperation was held on Monday (1/29/2017), at the Harun Nasution Main Auditorium, campus I of the UIN Jakarta.
Present in the event were Vice Rector III for Student and Alumni Affairs Prof Dr Yusran Razak MA, the Chairman of HWPL Mr Man Hee Lee, Acting Chairwoman and Director of International Women's Peace Group (IPWG) Mrs Hyoon Sook Yoon, Director of IPYG Mr Taeho Kang, Dean of Faculty of Adab and Humanities UIN Makassar Dr Barsihannor Zuhri, Dr Alimun Hanif from LP2M UIN Jakarta, and chairman of Muhammadiyah Youth Association Velandani Prakoso.
In his remarks representating the Rector of UIN Jakarta, Yusran said he appreciated the activities as well as the cooperation that exists between the two institutions.
He expressed the hope that the cooperation will strengthen and support each other's ideals on how to create world peace through education.
"UIN Jakarta appreciates this cooperation. We all hope that the results of this partnership will benefit to all of us," said Yusran.
He added that UIN Jakarta as an inclusive education institution has instilled the values of peace in its curriculum. Therefore, it is expected that its alumni can transmit the values of peace through various activities.
"Hopefully this event has a positive effect for all of us so that we can pass it on to the family and community," he said.
At the same occasion, the HPWL Chairman Man Hee Lee said that we need to maintain the world peace. "Therefore, let us create and keep the peace in this world," said Lee.
In addition to the MoU signing ceremony between HWPL, UIN Jakarta, UIN Makassar and UIN Sumatera Utara, HWPL also appointed Prof. Dr. Alimun Hanif and Dr. Barsihannor Zuhri as ambassadors for peace. (R/R01/RS5)
Mi'raj News Agency (MINA)