Israeli Court Approves Eviction of Palestinian Buildings in North Hebron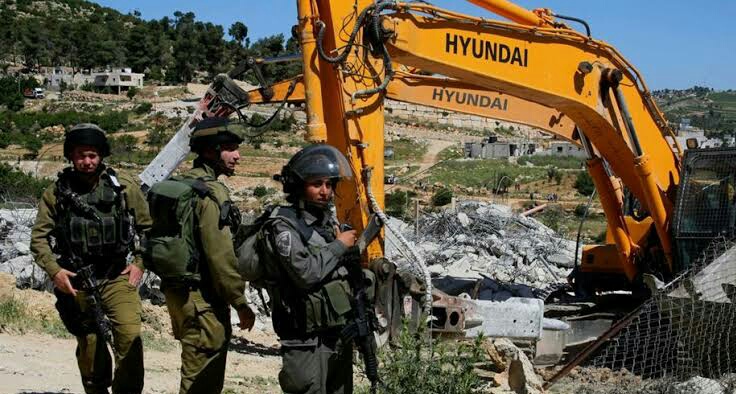 Israeli court approves demolition of Palestinian buildings in North Hebron (photo: special)
Hebron, MINA – Israeli High Court approved the eviction of a number of buildings belonging to Palestinians near the Ghos Etsion settlement, northern Hebron, on the pretext of being considered illegal buildings.
Palestinian Information Center (Palinfo) from Canel 7 Israel on Wednesday, September 11 reported the court gave a time delay to Israeli authorities for two weeks to determine the building to be evicted.
Israeli right-wing organizations claim the building is illegal, which is in the area around Ghos Etsion settlement and agricultural area in the village of Sair.
Israeli organization claims that five years ago, Palestinian Shaladah families from the village of Sair had taken control of the land near the settlement of the Bani Kadim belonging to the Zionist settlement, and controlled the road to settlement, then built illegal buildings and planted the surrounding lands.
In fact, the Israeli Organization accused the civilian institutions under Israeli military coordination in the West Bank of neglecting area five years ago, and did not implement the eviction decisions issued by Israeli courts.
Meanwhile, Israeli Court considers the time given to determine the building to be evicted has been sufficient, especially because the appeal submitted by Palestinian building owner has been rejected.
It is said that the right-wing organization Rejivem played an active role in expelling Palestinians from the area, and then built a Jewish settlement post in Palestinian territories.
In recent years, Israeli right-wing organizations actively pursue and target Palestinian buildings, on the pretext of not having certificates in the occupied West Bank, also in Ghalil, and Negev.
The organization, founded in 2006, has received donations from the Israeli government, and Zionist settlement council in the occupied West Bank.
Israeli settlements are illegal from an international perspective, and a major obstacle to peace efforts, because they are built in areas within Palestinian territories in the future.
The UN Security Council on December 23, 2016 issued a resolution demanding that Israel stop settlements, and consider them illegal settlements that threaten the Two-State Solution and peace process. (T/Sj/P2)
Mi'raj News Agency (MINA)