Two Deputy House Speakers Join Friday Prayers in Istiqlal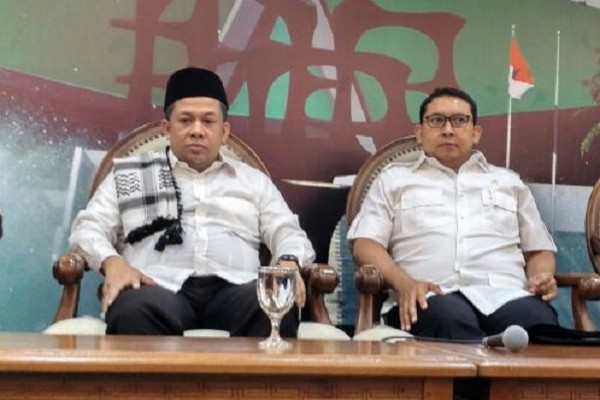 Jakarta, 05 Safar 1438/05 November 2016 (MINA) – Two Deputy House Speakers Fadli Zon and Fahri Hamzah performed Friday prayers in Istiqlal Grand Mosque, along with protestors who will join a massive peaceful rally after the prayers, here on Friday.
"We want to join this action. Hopefully, it will be smooth and yield positive results for the Indonesian nation," Antara quoted Fahri Hamzah as saying.
The peaceful rally should be seen as freedom of expression, which is part of democracy, he added.
He called on the government to listen to the publics aspirations, which in this case was their protest against the alleged blasphemy regarding the Holy Quran.
Fadli Zon said the rally is the largest this year as the protestors come from all over the country.
The House of Representatives (DPR) is the house of the public that represents the people, who are an integral part of the DPR, and not the House Speaker, Zon said.
"Please judge whether our participation is personal or not. We are invited and are carrying out a supervisory function," he added.
The rally was coordinated by the so-called National Movement of Guardians of Indonesian Ulema Councils Fatwa/edict (GNPF-MUI), demanding justice and legal enforcement.
Following Jakarta Governor Basuki Tjahaja Purnamas alleged blasphemous statement regarding the Holy Quran, the Indonesian Ulema Council (MUI) issued an edict that the statement was a blasphemy and should be processed legally in line with the countrys existing laws.
The governor popularly known as Ahok had apologized for his statement, saying that he did not mean to commit blasphemy.
President Joko Widodo (Jokowi) had earlier said that demonstrations are democratic rights of citizens, but they do not have the right to impose their will or create damages.
Jokowi said the government would guarantee the right to free speech, but it would also give priority to public order and security.
"I have ordered the security forces to stay alert and perform their duties in a professional manner to overcome any anarchy perpetrated by any one," the president remarked.  (T/R07/R01)
Mi'raj Islamic News Agency (MINA)