Palestinian Journalists Record 600 Israeli Military Violations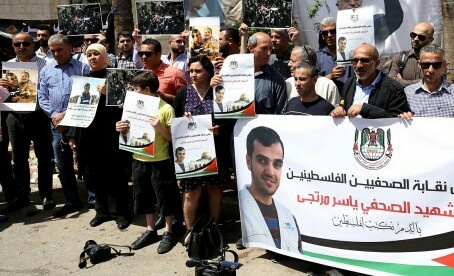 Palestinian Journalists Record 600 Israeli Military Violations (photo: Wafa)
Ramallah, MINA – Palestinian Journalist Syndicate said Israeli military had committed 600 violations against journalists and media so far this year. The violations included the use of ammunition in journalists.
Palestinian Freedom Committee said the most serious violation was the use of direct ammunition against journalists. There were 60 documented cases of journalist shootings by the Israeli military, thus quoted from Wafa news agency on Friday, November 8.
The report also noted that there were at least 170 cases in which the Israeli military beat, detained, and barred journalists from covering events. To date there are still 18 journalists who are being held in Israeli prisons.
In an anti-Palestinian campaign that took place by a social media network, Facebook, Palestinian Journalists Syndicate monitored 180 cases of violations of Palestinian content in the content, including deletion of accounts or posts about Palestine. (T/Sj/P2)
Mi'raj News Agency (MINA)